Should the Mariners and Yankees talk Felix Hernandez?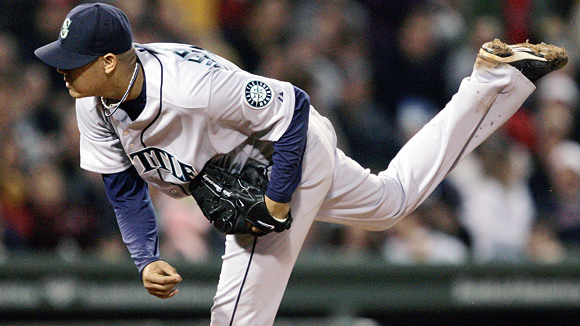 Aside from Ichiro and Felix Hernandez, there's not much to see when it comes to the Seattle Mariners. They're in a real bind because even in a wide-open division, they don't have enough to compete in the AL West but they also don't want to trade away their best talent and not have anything to attract fans to the ballpark this season.
But at this point, it might not be a bad idea for GM Jack Zduriencik to get Brian Cashman on the phone.
After missing out on Cliff Lee this winter, the Yankees still need pitching. If A.J. Burnett comes around and Phil Hughes gives the club another quality season, then the Bombers could make do. But this is the Yankees: They don't want to "make do," they want to win championships. That's why they might be willing to sell the farm in order to acquire a piece like King Felix.
Ken Rosenthal of FOX Sports talked about this very topic in one of his latest columns. He writes that Zduriencik might be able to acquire farm names such as Jesus Montero (who was the centerpiece of the Yankees' offer to the Mariners last summer before Seattle sent him to Texas), Manny Banuelos, Dellin Betances, Ivan Nova, Hector Noesi and Eduardo Nunez. As Rosenthal points out, the M's wouldn't be able to acquire all of those players, but considering Hernandez is coming off a Cy Young-winning season, is only 25 and is under team control through 2014, there's not much Zduriencik couldn't at least ask for.
But again, would the M's be willing to part with a player such as Hernandez when it'll make them weaker now and the Yankees stronger? King Felix may wind up spending the next 10 years beating them in New York and then what was this all for? To acquire some prospects that may or may not turn out?
That said, the M's need a lot of players and New York could certainly help them in that area. If Seattle were able to acquire five great to very good prospects, they might be able to compete for a championship themselves in the near future. Nothing is guaranteed of course, but what if in one phone call Zduriencik could make his club a serious contender in two or three years? All he has to do is sacrifice a lot right now to possibly acquire a lot more down the road.
If you're Zduriencik, do you make the call?