2011 Fantasy Baseball Rankings: Catchers
2011 Fantasy Baseball Preview | 2011 Fantasy Baseball Rankings
Designing your draft strategy for catchers can sometimes be a nauseating task. Do you nab Joe Mauer in the second round and not worry about the position again until you add depth at the end of your draft, or do you fill other positions first and go for value late?
One strategy that you might want to consider is passing on the top 2-3 backstops (in our rankings that would constitute Mauer, Brian McCann and Victor Martinez) and waiting to select your catcher until at least Round 8. That way, when the pitchers start to fly off the board in Rounds 4 through 7, you're not worried about investing a pick in McCann and Martinez when there will be plenty of value starting in Round 8.
But which players will be available then? Below is the tier we think you target starting in Round 8. If you think one of these catchers will fall to Round 9, 10 or 11, by all means: wait. But Rounds 8-11 is where you'll find great value without having to shop for your starting backstop later in the draft when the pickings are slim and the value is scattered.
Buster Posey, Giants
After bursting onto the scene last year to help the Giants win their first World Series in over 55 years, Posey might not last until Round 8. But if he does and you feel good about your roster to that point, don't waste any time announcing his name at your draft. He hit .305 with 18 dingers and 67 RBI while scoring 58 runs in just 443 plate appearances last season. He has the maturity of a 10-year veteran but is only a second-year pro. The Giants' lineup is still weak as a whole, but Posey should hit around .300 again with 20-plus HRs, 80 RBI and 70 runs scored.
Carlos Santana, Indians
It's hard not to fall in love with this kid's potential. Santana is fully recovered from knee surgery and if he can stay healthy, there's no doubt he could become an elite fantasy catcher. After batting .260/.401/.467 over his first 192 major league plate appearances last season, the sky's the limit for the 24-year-old, who is also spending some time at first base in spring training (hey, a little versatility never hurt anyone). If his numbers in June last year are any indication (.345, 4 HRs, 10 runs, 15 RBIs), Santana is ready for a breakout campaign.
Geovanny Soto, Cubs
In just 322 at bats last season, Soto hit .280 with 17 home runs, 47 runs scored and 53 RBI. If he stays healthy, he could hit 20-25 home runs, score another 50 runs and drive in 65-70 RBI. The nice thing about Soto is that he's a selective hitter, so he could hit around .280 again next season.
Mike Napoli, Rangers
Napoli led all catchers in home runs last year with 26, but it's unclear at this point whether or not his trade to the Rangers will hurt his fantasy value. He'll draw regular starts at catcher, first base and DH, but it remains to be seen how many at bats he'll compile over the course of an entire year. Still, he should post great power numbers at the Ballpark in Arlington.
Miguel Montero, Diamondbacks
In just 85 games last year and 297 at bats, Montero hit nine home runs and drove in 43 RBI. He has two years of experience, good power and plays in a home run-friendly park, making him an attractive fantasy option in 2011. He could be poised for a breakout season.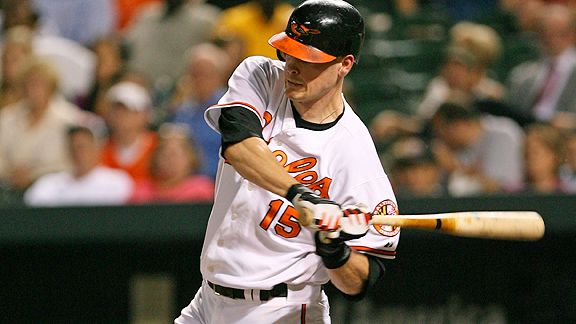 Matt Wieters, Orioles
Wieters was a disappointment in 2010, batting just .249/.319/.377 with only 11 home runs in 446 at bats. But the 24-year-old was once regarded as the top catching prospect in baseball and has devoted himself this offseason to improving at the dish. It wouldn't be a stretch to think that Wieters can hit .280 this year with 20 home runs and drive in 72 RBI.
2011 Fantasy Baseball Catcher Rankings:
1. Joe Mauer, Twins
2. Brian McCann, Braves
3. Victor Martinez, Tigers
4. Buster Posey, Giants
5. Carlos Santana, Indians
6. Geovany Soto, Cubs
7. Miguel Montero, Diamondbacks
8. Mike Napoli, Rangers
9. Matt Wieters, Orioles
10. Kurt Suzuki, A's
11. Jorge Posada, Yankees
12. Miguel Olivo, Mariners
13. J.P. Arencibia, Blue Jays
14. John Buck, Marlins
15. Yadier Molina, Cardinals
16. Carlos Ruiz, Phillies
17. Chris Iannetta, Rockies
18. Russell Martin, Yankees
19. Nick Hundley, Padres
20. Rod Barajas, Dodgers
21. Ryan Doumit, Pirates
22. John Jaso, Rays
23. A.J. Pierzynski, White Sox
24. Alex Avila, Tigers
25. Ramon Hernandez, Reds