Whatever happened to all the dominant Duke big men?
Let me throw out a few names: Danny Ferry, Christian Laettner, Cherokee Parks, Elton Brand, Carlos Boozer and Shelden Williams — what do they have in common? Yes, they all played for Duke, and they all averaged at least 17.7 points and 7.4 rebounds in their final years in Durham. On average, this group posted 19.6 points and 9.0 boards in those years. Ferry, Laettner, Brand and Williams were named First Team All-Americans, while Boozer made the Third Team. Parks could have been an All-American as well had Mike Krzyzewski not missed most of of his senior season due to back surgery and exhaustion. Williams was the last "dominant" Duke big man, and he graduated in 2005-06.
Since then, Duke has seen a string of highly-touted big men come through Cameron, including Shavlik Randolph (who played with Williams), Josh McRoberts, Brian Zoubek, Miles Plumlee, Mason Plumlee and Ryan Kelly. Randolph, McRoberts, Mason Plumlee and Kelly were all McDonald's All-Americans coming out of high school. Other than maybe McRoberts (13.0 points and 7.9 rebounds), none of these guys have even approached the numbers and success of the aforementioned group.
What has happened to big man development in Durham?
One theory is that the Duke assistant coaches — Steve Wojciechowski, Chris Collins and Nate James — were all perimeter players in their heyday. You don't need to be a former post player to coach big men but it certainly doesn't hurt. Do they have the expertise to teach Miles Plumlee how to shoot a jump hook or master the up-and-under?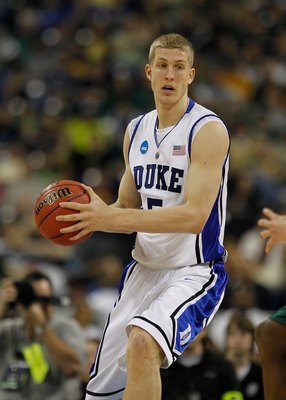 Another theory is that Coach K's offense has become increasingly perimeter-oriented over the past few years. Rarely does Duke probe the middle with post feeds and ask their bigs to score with their back to the basket. Mason Plumlee did have a couple of jump hook opportunities against Virginia Tech on Saturday, but the post is not the focus of the Duke offense. For the last few years, the Blue Devils have become increasingly dependent on the three-point shot. All the action is out on the perimeter where Nolan Smith and Kyle Singler break down their defenders and either shoot the open jumper or take it to the rim.
Or it could be the prospects themselves. Right now, Kelly is a 6-11 three-point specialist and looks uncomfortable with his back to the basket. Both Plumlees are capable of banging down low, but neither guy is polished with his back to the basket. The same goes for Randolph, Zoubek and McRoberts before them. Maybe guys like Laettner and Brand were just better offensive players coming out of high school. Laettner was a face up shooter — he hit 56% from three-point range his senior year — but he was also murder in the mid-post and got to the line regularly.
The Blue Devils managed to win a National Championship last year with no viable post threat, but Zoubek brought enough defense and rebounding that Duke was able to get by. The team is certainly bigger up front than they have been in years, but they still don't have a guy that they want to feed in the post. This deficiency is masked when they are hitting their threes, but when they're laying bricks like they did on Saturday (4-for-20 from 3PT against the Hokies), they're going to lose. In fact, in the three Duke losses, the Blue Devils have shot a combined 20-of-81 (25%) from long range. It sure helps to have a dependable option down low when those threes aren't falling.