Should the Titans have interviewed more candidates before naming Munchak head coach?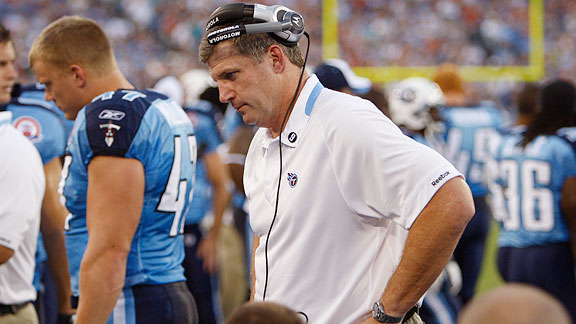 As Jeff Fisher's offensive line coach for 14 seasons, Mike Munchak coached the Titans' front five to 10 Pro Bowl berths and helped open up holes for highly successful backs like Eddie George and Chris Johnson. He also has a bust in the Hall of Fame, so commanding respect from his players won't be an issue for the former Houston Oiler great.
But considering the Titans only interviewed a total of four candidates before they hired Munchak as their next head coach, I wonder whether or not the team did their due diligence when it came to finding Fisher's replacement.
If the Titans knew that Munchak was their guy when they started the hiring process, well, there's certainly nothing wrong with that. Owner Bud Adams seems quite fond of him and it is his team, so if that's his guy, then so be it. Like all new head coaches, Munchak deserves a chance to succeed.
But when you only talk to three other candidates (OC Mike Heimerdinger, Atlanta OC Mike Mularkey and Giants' DC Perry Fewell) to replace a man who previously held the job for 14 years, questions will be raised.
Coaches with zero coordinator experience have been hit or miss over the years. Mike Tice was a failure as a head coach in Minnesota after previously being the Vikings' offensive line coach. Jim Caldwell, on the other hand, led the Colts to a Super Bowl appearance in his first year as head coach. Raheem Morris is doing all right for himself in Tampa, too.
But Morris has Peyton Manning and was the assistant head coach for Tony Dungy before taking over as head coach. Morris wasn't handed Peyton Manning but he hit a home run with his first draft pick when he selected his quarterback of the future in Josh Freeman.
For the Titans' sake, hopefully Munchak will be just as fortunate. Again, he deserves the fans' patience as he settles into his new role. He obviously knows the game and considering a lockout is looming, it's good for Tennessee that he already knows the players and staff. There's nothing like trying to get to know your fellow staff when you only have a few weeks to prepare for the season.
But if Munchak doesn't pan out, there's no doubt the Titans will be questioned as to why they didn't spend more time interviewing more than four candidates to fill one of the most important roles on the team.