Falcons wise to reward Mike Smith with an extension, stay the course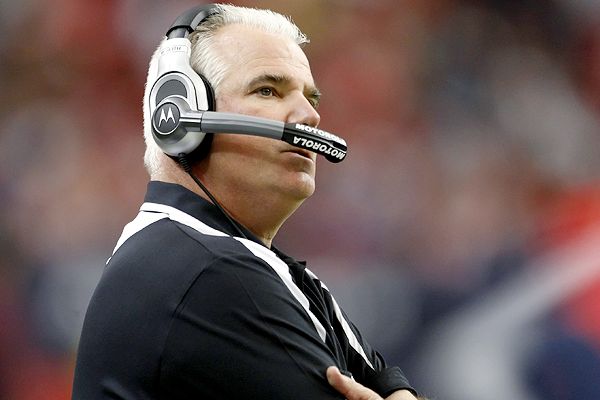 I don't fault anyone who thought the Falcons should hire two new coordinators, set fire to the Georgia Dome carpet and draft seven new defensive backs in April after the Packers torched Atlanta 48-21 in the postseason.
But that would have been an overreaction and after the Falcons went 13-3 this season, there's no need to panic just because they were humiliated in the playoffs.
Pardon the clichéd expression but Rome wasn't built in a day. Owner Arthur Blank had a real mess on his hands when Michael Vick was hauled off to prison and Bobby Petrino left in the middle of the night to go call hogs in Arkansas. But he made one really great decision in hiring GM Thomas Dimitroff, who then made one really great decision in hiring Mike Smith as head coach.
Smith, who has guided the Falcons to a 33-15 record in three years as head coach, was just given a well-deserved three-year contract extension. Don't be surprised if Dimitroff were given a new deal as well, which would be smart on Blank's part. This is a team that needs to stay the course.
The Falcons' biggest goal is shared by all 32 teams: Win a Super Bowl. But while they want to emulate the success that the Steelers and Packers have had this season, they can't worry about trying to model themselves after either team. The Steelers have had great defenses for decades and Ted Thompson spent years building the roster that the Packers will feature this Sunday in Arlington. Just because the Falcons aren't in the position that Green Bay is right now doesn't mean they need to start over.
That's why firing Mike Mularkey and/or Brian VanGorder would have been a rash decision based mostly on what happened in the Green Bay game. VanGorder took a lot of well-deserved criticism for his game plan against the Packers. It's not that he failed to create pressure – his defenders reached Aaron Rodgers, they just rarely got him to the ground. His biggest failure came when he decided to keep his corners seven yards off the ball and never adjusted after Rodgers shredded his defense in the first half. Had the Falcons fired him walking into the tunnel that night, not many fans would have argued. (I wouldn't have either.)
But the loss also proved that the Falcons' defense is still a work in progress and keep in mind that Smith (who was a D-coordinator in Jacksonville before Atlanta made him its HC) has a hand in the defense's success and failures as well. They need to add another pass-rusher. They need Sean Weatherspoon to stay healthy and develop quickly so that the team's linebacker corps isn't such a liability in coverage. They need a quality nickel back.
Simply put, they need to keep improving.
The same can be said for the offense. Smith wants to be physical on both sides of the ball, which is why Mularkey won't be replaced unless he's hired away as a head coach. Michael Turner and more importantly, Matt Ryan, fit Mularkey's offense. Yes, the Falcons need to add a receiver opposite Roddy White because their inability to stretch a defense last year hurt them in the end. Michael Jenkins is a better player than people give him credit for, but he lacks burst and can't separate from defenders. That's why a player like Vincent Jackson or Malcolm Floyd would be a great addition to an already good offense.
But making additions doesn't mean they need to go back to the drawing board. The Packer game was a disaster – period. But Green Bay has also proven to be a damn fine football team and it flat out just played better than Atlanta that night. The Packers played arguably their best game of the season, while the Falcons played their worst. The result was a 48-21 Green Bay victory. It happens. Learn from it and move forward. Look at the Packers a year ago. They came off an embarrassing defensive performance against the Cardinals, but Thompson didn't panic. He tweaked his defensive personnel a bit and now Green Bay is in the Super Bowl.
Signing Smith to a contact extension was smart. Signing Dimitroff to a new deal will be even smarter. But being patient will be the keys to whether or not the Falcons wind up playing in a Super Bowl next year or beyond. They're on the right track.