Al Davis puts down Calvin Johnson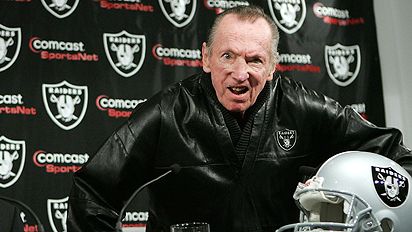 Listen, don't talk to Al Davis about no Calvin Johnson. Because while drafting JaMarcus Russell may have been a mistake, it's not like that lousy Megatron has helped the Lions win many games over the years.
Or so says Davis.
From Mlive.com:
Here's what Davis said about Oakland's recent draft success:
"I think we've been very successful the last four. I think we're always pretty good. The thing that hurt, is the question someone asked, JaMarcus hurt a great deal. But the ones they wanted to take instead of JaMarcus, Brady Quinn, hasn't played yet.

"There was some talk of Calvin Johnson. But you can take a look at Calvin up at Detroit. How many games did they win this year, Detroit, do you know? Six? Yeah. But up until now, Calvin hadn't done anything for them. He had been eulogized, but he hadn't made a lot of indelible impression on the won and lost. Listen, someone asked the question, it's there. The JaMarcus thing hurt."
Oh, brother. Only Al Davis could admit to a mistake but then try to rectify it by saying something stupid.
Hey, I blew it by drafting JaMarcus Russell but it's not like anyone else that we wanted panned out – especially that Calvin Johnson kid. After all, football is a one-man sport and Johnson only helped the Lions win six games last year so it's not like he would have helped. And don't forget people, we drafted Darrius Heyward-Bey two drafts later so we got our own Calvin Johnson eventually.
Johnson has 4,191 yards and 33 touchdowns thus far in his promising career. Russell is out of the league already. Big difference.