Barstool Debate: Who is going to win — the Packers or the Falcons?
Saturday marks a special day in my relationship with my co-worker Anthony Stalter. No, it's not our anniversary or anything – my favorite team is the Green Bay Packers and he's an Atlanta Falcons fan, so the fact that the two teams are squaring off in the playoffs is a pretty big deal in our world. In fact, since he lives in St. Louis and I live in Southern California, we've both agreed to purchase a 12-pack of Bud Select 55 (not a plug, but it could be!) and pretend that we're splitting a case while watching the game together.
As I just tweeted, everything that happens today is just a preamble to Saturday's game, so let's talk a little trash as we try to run the clock out on the work week.
JP: First of all, let's see who's the bigger fan. I was born outside of Milwaukee and grew up loving the Packers, even when players like Lynn Dickey, Eddie Lee Ivory and Paul Ott Carruth were the big names (and an 8-8 record was a successful season). Then came Brett Favre (ironically via a trade with the Falcons) who was my favorite player for 16 freaking years before he retired his way to our arch-rival. Blood had been spilled. My autographed photo of Favre is sitting, face-down, in the garage, waiting for his inevitable "mea culpa" visit to Lambeau in a couple of years. What's my point? I'm a fan of the Packers, not of any one player. Now, tell us how you became a fan of the Falcons…
AS: I grew up in Chicago so many people assume that I'm a Bears fan (why they would think that, I have no idea). But my folks are from New York so they had no loyalty to the home team. To my family's disappointment, I didn't become a Jets fan. When I was real young, I liked certain players instead of teams. But when I was 9, the first playoff game I remember watching from start to finish was the 1991 Wildcard matchup between the Saints and Falcons. When you're a kid, you usually don't focus on defensive players, but I was enamored with Deion Sanders. He was the most athletic player I had ever watched. Chris Miller also hit Michael Haynes on a 61-yard touchdown pass late in the fourth quarter, so that particular game was thrilling. I've been hooked on the Falcons ever since, even though it hasn't been easy being a fan of theirs over the years. Up until last year, they never had back-to-back winning seasons so I've endured a lot of losing. From Jeff George to Jamal Anderson to Michael Vick (ugh, talk about highs and lows), they've put me through a lot. But just like you when it comes to the Packers JP, the Falcons will forever be my team. Since I have never lived in Atlanta, DirecTV's "Sunday Ticket" is the world's greatest invention. I never miss a snap of the Falcons' games, even when I have to watch them again later so I can fulfill my responsibilities to TSR.
JP: Did I mention that the Falcons actually drafted Favre out of college and traded him to the Packers? Ron Wolf got the better end of that deal, though Jerry Glanville now claims that he traded Favre to help sober him up. Seriously.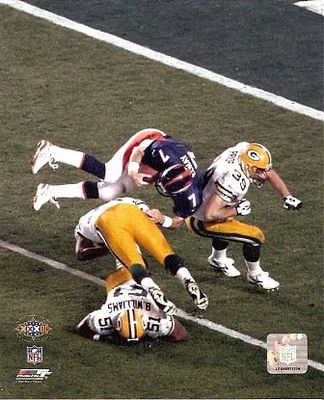 Anyway, you may be a fractured sports fan, since you like the Giants in baseball and the Spurs in the NBA, but I'll give you credit, you've been a Falcons fan for as long as I've known you. Atlanta does hold a special place in my heart though – they were the ones who kept the Vikings out of Super Bowl XXXIII even though you couldn't beat John Elway, who beat my Packers the year before with "The Dive." What a jagoff.
So moving on to Saturday's game. I think it's going to be a tight one, just like the first meeting this season. I think the Packers have the slight edge in talent, though the Falcons don't beat themselves, which is something that Green Bay has a tendency to do. If Roddy White's knee were 100%, I'd take the Falcons, but I don't think it is and losing that dimension hurts Atlanta's offense. Green Bay will win if they keep the penalties down and if they can contain Michael Turner. I saw a stat that said that, in the first meeting, he rushed for 5.8 yards per carry against the Packers when GB had eight men in the box. As a Packer fan, that's scary.
AS: You and I can definitely agree on one thing: John Elway is a jagoff. Every time the NFL Network shows him running down the field with his arms in the air after beating the Falcons in XXIII, I want to punch my TV screen. And Glanville is a lying if he says he traded Favre to help sober him up. Glanville never wanted to draft Favre – that was all Ken Herock. But he forced Herock to trade Favre because he was never going to play him. Ahhhh! What could have been…
Outside of the 2005 Steelers, the Packers are the most dangerous No. 6 seed I think I've ever seen in the playoffs. Aaron Rodgers was the NFC's MVP in my opinion. The guy didn't have a running game until last week and even though teammates on both sides of the ball were dropping like flies around him due to injuries, he kept the Packers afloat almost single-handedly. (I know he has a great receiving corp, but they do seem to drop a lot of balls.) To me, this game comes down to two things: 1) Michael Turner and 2) Atlanta's ability to get pressure on Rodgers using only its front four. If the Falcons can run the ball and eat up a lot of clock, then they'll be able to limit the damage Rodgers can create. And if they can pressure him using only John Abraham, Jonathan Babineaux, Corey Peters and Kroy Biermann, their linebackers will be free to contain new sparkplug James Starks and help out in coverage. But that's easier said than done. Rodgers is still going to make plays and even if you blitz him, he's outstanding when it comes to getting the ball out of his hands quickly. What's your take on Starks and his ability to provide Mike McCarthy with balance?
JP: I like Starks a lot! He has a good combination of strength, speed and wiggle and has a lot more upside than any other RB on the Packer roster, including Ryan Grant, who is a strong runner, but isn't very elusive. Starks showed the ability to make people miss when he caught a pass out of the backfield against the Eagles and dodged a tackler or two to pick up the first down. His success will be key on Saturday. Atlanta is 10th in the league in rushing yards allowed, but they do give up 4.6 yards per carry (25th), so if Green Bay sticks with the run, Starks could have a nice day. Unfortunately, the Packers are 28th in ypc allowed (4.7) so I'm very worried about Turner going off.
Change of subject – I've asked you this before, but I think it's an interesting question to revisit: If you were running the Falcons and Ted Thompson called you up and offered Aaron Rodgers straight up for Matt Ryan, would you pull the trigger?
AS: Oh, man – bringing out the big guns for this piece! That's a hard question to answer because I've rooted for Ryan since his rookie year (it would be difficult to say that you would trade a player that you've become so fond of) and as you know, I've been a supporter of Rodgers since Favre "retired" his way out of Green Bay. Rodgers is better than Ryan right now. He also has a stronger arm and people don't give him enough credit for being a good athlete (which is one of the reasons he dropped in the draft, even though he's proven that he can run). But he would also be a total waste in Mike Mularkey's offense. The routes in his offense aren't designed to test defenses vertically – they're meant to be zone killers. He's also loyal to his running game and strives for almost 50-50 balance between pass and run. Ryan is a perfect fit for Mularkey's system because he's intelligent, he makes quick reads and he's incredibly accurate. That's not to say that Rodgers doesn't have those intangibles because he does. (And to clarify my thoughts, I think Rodgers could be successful in any system.) But Ryan is two years younger than Rodgers and his arrow is pointing up, too. So based on my offensive coordinator, the system and the age factor, no, I wouldn't want to trade Ryan for Rodgers.
Give me one Green Bay player to watch for that nobody is talking about right now that you think will make a big impact come Saturday.
JP: Wait, you want to build around an offensive coordinator and not a franchise QB? Well, it's good that you would say no because the Packers would never offer up that trade. Back to your "player to watch" request – OLB Erik Walden was named NFC Defensive Player of the Week for his Week 17 performance (16 tackles, two sacks) against the Bears. He followed it up with five tackles, another sack and a forced fumble against the Eagles. He was drafted by the Cowboys in the 6th round in the '08 draft, but Ted Thompson signed the Middle Tennessee State product as a free agent off the street in late October. He's now a starter in Dom Capers 3-4 defense. If he and Clay Matthews can bring consistent pass rush, it's going to make things very difficult for Matt Ryan.


Well, we're almost to the 1700-word mark, which means we better wrap this up. How do you see this game going and who do you predict will win?
AS: It figures that you would ask me a hard question like that and then call me out on my answer! That was dirty. Obviously I wouldn't want to build around an offensive coordinator. I could have completely copped out and just said that both quarterbacks would be great in any situation but I wanted to give you some thought behind my completely biased answer. So thanks for ruining this, John. I was having fun…
It's not a stretch to say that the majority of the nation favors the Packers in this game. I watched three different preview shows on NFL Network this week and all of the analysts picked the Packers. My former hero Deion Sanders even went on to say that he "can't stand" Atlanta's secondary. So while Vegas has installed the Falcons as a favorite, they're an underdog in the court of public opinion. To me, what this game comes down to is this: Can the Packers play a near-perfect game? Because the Falcons don't do things to beat themselves and they're the ones that are rested and playing at home. The advantages they have don't show up in the box score, which is why I don't take a lot of stock in all of statistical evidence that suggests the Falcons shouldn't even bother showing up on Saturday night. I see this being a surprisingly low-scoring game and the Falcons winning with a late field goal.
JP: Oh, come on. I'm not buying that anyone is trying to sell that the Falcons shouldn't bother to show up Saturday night. This is the #1 seed playing at home after a week's rest. Of course they are the favorite. As you mentioned, the Packers are a live dog and are the sexier pick for the pundits, but every time a so-called "expert" picks Green Bay in this game, it's one more piece of motivation for Mike Smith and the Falcons. They're going to play the "no respect" card and that's a good one to have in your corner. I am going to pick the Falcons as well, 24-23. That way it's a win-win for me – if Green Bay prevails, I can celebrate a Packer victory. If they lose – well, hell, at least I called the game right.
Enjoy those bottles of Bud Select 55 – we're going to need 'em.