Firing Phillips the right decision for Cowboys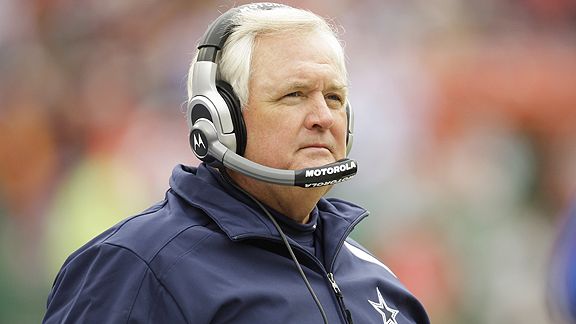 Whether it's Wade Phillips or Jason Garrett that finishes out the rest of the season as head coach of the Dallas Cowboys, the team isn't going to the playoffs. But Jerry Jones' decision to fire Phillips on Monday isn't about making the playoffs.
Jones needed to send a message to those that will be around past this year that the lack of effort and execution that the Cowboys have displayed this year won't be tolerated. Not all of the team's problems are because of Phillips, but the head coach is always the first one on the chopping block when things fall apart.
You always hear about how Phillips is a players' coach, but most of his players stopped playing for him weeks ago. I don't think there's any question that Phillips can coach in this league, but obviously the players stopped responding to his methods and Jones had no choice but to let him go after the embarrassing 45-7 loss in Green Bay on Sunday night.
Without Tony Romo, Garrett's chances of succeeding are fairly slim. But he won't be measured on wins and losses over the next eight weeks – he'll be measured on how the players respond. If they quit on him like they quit on Phillips, then Garrett may be searching for a job after the season as well.
Bill Cowher and Jon Gruden's names will be brought up repeatedly over the next two months in connection with the Dallas job, but consider this: No head coach has ever won the Super Bowl with his second team. Bill Parcells (Giants/Patriots), Dan Reeves (Broncos/Falcons) and Mike Holmgren (Packers/Seahawks) all got close, but they couldn't pull the feat off. That's not to say that Cowher or Gruden would be bad choices to replace Phillips, but Jones needs to at least consider bringing in someone fresh.
It'll be interesting to see not only whom Dallas hires at the end of the season, but also whether or not Phillips will get another head coaching job next year. He may have to settle for a defensive coordinator position after what transpired with the Cowboys this season.