JaMarcus Russell is sippin' on some sizzurp, sip, sippin' sippin on some, sip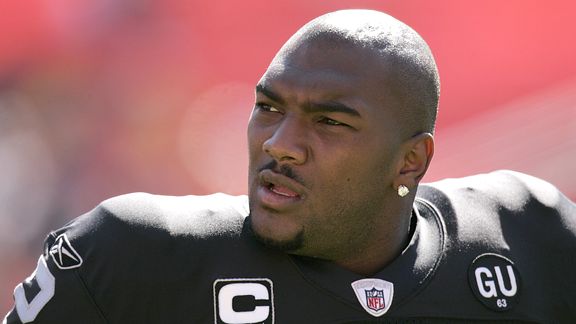 The flush you just heard was whatever was left of JaMarcus Russell's NFL career swirling down the toilet.
According to the Mobile Press-Register, the massive bust was arrested on Monday afternoon for possession of a controlled substance, which was said to have been codeine syrup (i.e. Sizzurp).
(Spokeswoman Lori) Myles said Russell was arrested at his home early this afternoon during an undercover investigation. Police did not find a prescription for the codeine during their search, Myles said.

Other people were on the property, but Russell was the only one arrested, according to Myles.

He was booked into Mobile Metro Jail at 4:22 p.m. Russell was released minutes later after making $2,500 bail, according to online records.
Witnesses claim that when the police asked him to hand over the syrup, he fumbled it, picked it up and then overthrew the officers by 20 feet.
Even before his arrest, he was overweight, lazy and highly ineffective on the field. Why any NFL team would even give him a tryout at this point is behind me. Hopefully Russell likes Canada, because the CFL is the only football this asshat will be playing anytime soon, although the UFL is also a possibility I suppose.
I can't wait for his agent to make a public announcement a couple of months from now saying how much Russell has turned his life around and is "in the best shape of his life."
Because you know it's coming.