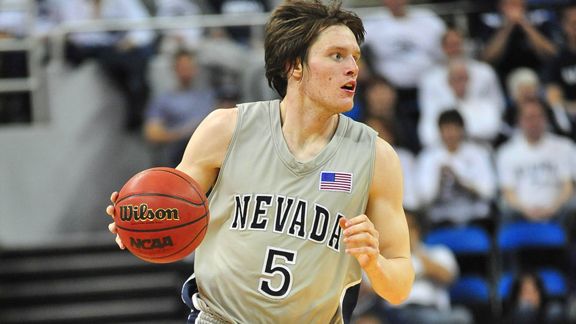 Chad Ford writes that this year's Tyler Hansbrough is Nevada forward Luke Babbitt.
Babbitt measured around 6-9 in shoes with an 8-9 standing reach. That doesn't blow you away. However, he had an impressive 6-11 wingspan and essentially measures up with Griffin (6-10 in shoes, an 8-9 standing reach and a 6-11 wingspan).

But Griffin is way more athletic, you say? Not according to the combine numbers.

Babbitt had a 37.5-inch max vertical, a 3.2-second sprint and an impressive 10.98 lane agility score. Griffin's numbers were 35.5, 3.28 and 10.95, respectively.

Griffin clearly had the strength advantage, benching a 185-pound bar 22 times to Babbitt's 15. But 15 reps is still an impressive number.

What about production on the court? Griffin clearly had Babbitt bested here. Griffin averaged 22.2 ppg and 14.1 rpg in 32 mpg his sophomore year. Babbitt averaged 21.9 ppg and 9 rpg in 37 mpg his sophomore year. However, Babbitt does bring two things to the table that Griffin doesn't — 3-point shooting and ball-handling ability. Babbitt shot a blazing 43 percent from beyond the arc this past season and showed excellent ball-handling skills for a big man in the combine.

Of course, Babbitt isn't as good of a prospect as Griffin was. That's why we've had Babbitt No. 12 on our mock draft for two straight weeks. However, we might have him too low. Based on what I'm hearing, Babbitt could be in play as high as No. 9 to the Jazz.
There's a difference between averaging 22-14 in 32 mpg against Big 12 competition and averaging 22-9 in 37 minutes in the WAC. Ford's point is that athletically, Babbitt is right there with Griffin.
Here is what DraftExpress had to say about Babbitt back in February:
On the offensive end, Babbitt possesses an extremely high skill level to go along with an outstanding feel for the game, assets which allow him to score easily and efficiently from all over the floor. The smooth left-handed shooter is hitting with deadeye accuracy from the free-throw (89%) and three-point lines (41%), while also showing strong ability off the dribble, namely with his mid-range jumper.

Using a combination of ball fakes and jab steps along with rangy strides with the ball and excellent footwork, Babbitt does a very good job getting separation for his jumper in spite of his limited athletic ability. Getting open inside the arc, he shows very good ability to hit jumpers on the move, going left and right, with a hand in his face, and fading away from the basket.

Babbitt's shot has consistent mechanics and a high release point, while he also has NBA three-point range. His ability to hit shots in a variety of situations if very impressive for a player his age, though there are concerns about how his off-the-dribble shots will translate to the next level against longer, more athletic defenders.
I put those two phrases in bold because it seems Babbitt's athleticism has always been something of a concern. I wonder — is it because he's white? Maybe scouts see a white player and automatically start to question his athleticism until proven otherwise.
But Babbitt showed at the combine that he's every bit the athlete Blake Griffin is, at least according to the numbers. Given his ability to score and basketball IQ, this will make him an interesting name to watch in the first round.