Okur to have MRI on injured Achilles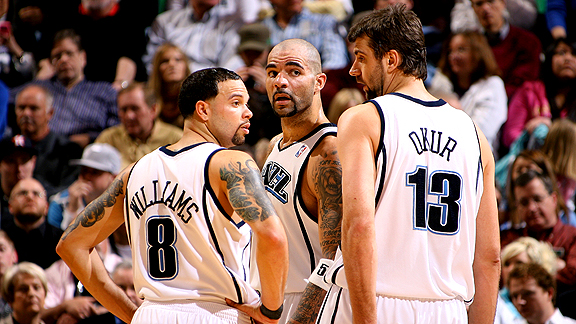 To add insult to injury, or possibly injury to insult, the Jazz lost more than Game 1 on Saturday night. They may have lost Mehmet Okur as well.
Utah Jazz center Mehmet Okur was helped off the court after reinjuring his left Achilles tendon in the second quarter of Game 1 against the Denver Nuggets on Saturday night.

Okur left the arena on crutches, ESPN's Holly Rowe reported.

"I felt something pop," said Okur, who will undergo an MRI on Sunday.
This is a blow to an already thin frontcourt that is without Andrei Kirilenko for the next couple of weeks. Without Okur, the Jazz are left with two big men that get regular minutes — Carlos Boozer and Paul Millsap. Kosta Koufos or Kyrylo Fesenko will have to step in and play. Otherwise, the Jazz will have to ride Boozer and Millsap and go very small when they give one or the other a rest.
I thought Utah would squeak out a series victory, but with Okur and Kirilenko out, they face an uphill battle.