David Thorpe says that Marcus Thornton is a better scorer than Brandon Jennings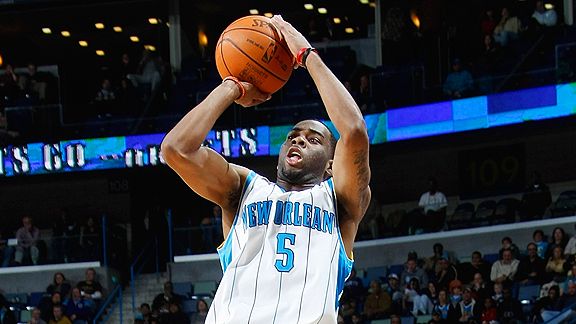 Wait…what?
In his Rookie Watch: Midseason Awards (Insider subscription required), Thorpe says that Thornton is the next best rookie scorer after Tyreke Evans.
There are a few obvious choices here, but I think Thornton is the most deserving simply because of what he's done in difficult circumstances. Despite being pulled into and out of the rotation, playing for two coaches already and often getting paired with another rookie in the backcourt, he has been able to put up points and help drive the Hornets back into playoff contention.

Ultimately, I think Thornton will be an excellent scorer off the bench for a contending team. He has supreme confidence in his ability to get a bucket from anywhere.
Difficult circumstances? Thornton has played with Chris Paul and Darren Collison at point guard, maybe the best 1-2 punch at the position in the entire league in terms of setting up teammates for shots. Meanwhile, Brandon Jennings has been asked to run the Bucks offense, deal with the absence, arrival and disappearance of Michael Redd, and has helped Andrew Bogut develop into an All-Star caliber player, all while leading the Bucks in scoring.
Thornton's has a higher points per shot (PPS), averaging 1.15 to Jennings' 1.05, but Jennings is averaging almost seven more points per game while being the focus of the opponent's defensive game plan. Jennings is just as good from long range and gets to the line twice as often. Sure, he's struggled of late as teams have started to figure out how to stop him, but that's just it — teams are trying to stop him. Is anyone game planning for Marcus Thornton?
This is a head-scratcher.