Freeney speaks out about ankle injury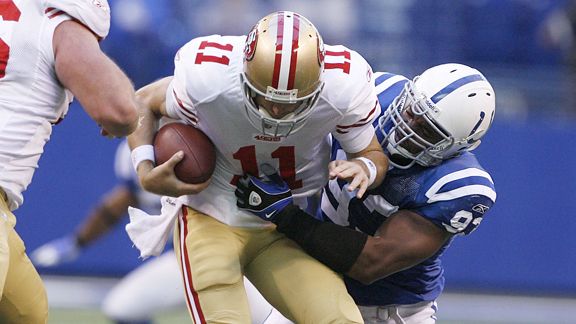 Media Day for Super Bowl XLIV was today and as expected, Colts' defensive end Dwight Freeney faced several questions about his ankle injury and his health status for Sunday.
From ESPN.com:
"Hopefully, towards the end of the week it starts to get better," Freeney said at Tuesday's media day. "The decision will come later on in the week. It's kind of early now."

"The competitor in me says they'll never stop me from being on the field," he said with a laugh before adding: "There's some pain there definitely with throwing everything at it, all types of techniques to find the best thing to get this thing as good as possible. You name it, I've probably done it."

"Obviously, the competitor in me says 'nothing is going to stop me,' but that said, it is not up to me — it is up to the coach and the staff," he added.
Freeney admitted that he probably wouldn't practice the rest of the week, which is a telling sign that the Colts are hoping that he'll be healthy enough to play for three hours on Sunday and nothing more. He reportedly walked with a limp today and his ankle was noticeably swollen, according a report by NFL.com.