Can Colt McCoy be Texas' X-factor?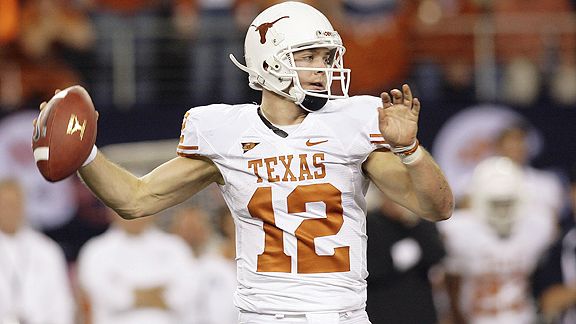 This much we know when it comes to the BCS title matchup between Texas and Alabama:
– Both defenses are outstanding, with Alabama's being damn near impenetrable.
– Mark Ingram will be the centerpiece for the Crimson Tide offense.
– Mack Brown and Nick Saban will have their teams prepared.
Outside of those three things, everything else could be considered a crapshoot.
The wildcard in tonight's game might very well be Longhorns' senior quarterback Colt McCoy, who will try to put a bow on top of an outstanding collegiate career. He's thrown for 3,512 yards this season, with 27 touchdowns and also chipped in 348 rushing yards and three scores on the ground.
But tonight marks McCoy's biggest game as a Longhorn, and certainly his most challenging. Saban has had over a month to dissect what McCoy and the Texas offense do best and there's no doubt that Tide's defense will challenge the Longhorns to throw vertically.
Texas struggled against Nebraska in the Big 12 Championship because it matched up well against the Horns in zone coverage. The Huskers limited the effectiveness of UT's dink-and-dunk approach and the results were outstanding. McCoy thrives off the short to intermediate completion and Nebraska essentially took those plays out of Texas' playbook.
If the Longhorns are going to win tonight, McCoy will have to beat Alabama by throwing vertically. The problem is that his offensive line will be overmatched by the Tide's excellent front four and he might not have time to survey open receivers and stretch the field. It's up to McCoy to make quick reads and get the ball out of his hands quickly before succumbing to the pressure that he will undoubtedly face tonight.
McCoy has been a playmaker throughout his collegiate career. He's a gamer and will no doubt be focused and prepared for what he'll face tonight. But if Texas' defense does its job and shuts down Ingram and the Tide's offense, then the senior QB will have to make plays down the stretch or else he'll miss the opportunity to go out on top.