Pryor quiets critics by leading Ohio State over Oregon in Rose Bowl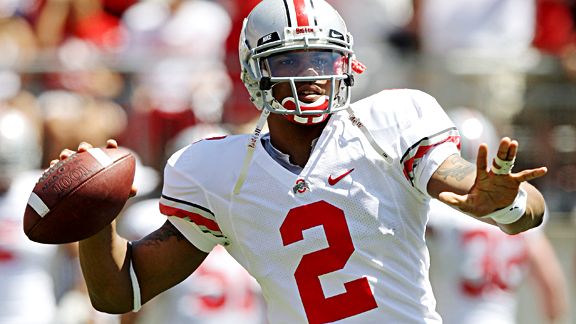 Terrelle Pryor has taken his fair share of beatings this season from fans and critics alike – and for good reason.
Entering his second season, this was supposed to be the year in which Pryor took the next step as a passer. But instead, he regressed. He showed the inability to lead the offense, struggled with his accuracy and with turnovers, and displayed little to no potential.
But to his credit, Pryor saved his best performance of the year for his last. He gave an incredible effort in Ohio State's 26-17 win over Oregon in the Rose Bowl and led the Buckeyes with not only his feet, but with his arm as well. He finished 23-of-37 for 266 yards and two touchdowns, while also leading the Buckeyes with 72 rushing yards on 20 carries.
Pryor kept drives alive with his feet, limited mistakes and kept his team in the game from start to finish. He wasn't quite Vince Young against USC in the national championship, but he was damn near Vince Young against Michigan in the 2005 Rose Bowl. If Pryor's junior year resembles that of Young's third season, then Ohio State has plenty to look forward to next year.
If you were surprised that the mighty Oregon offense only scored 17 points, don't be. They took a back seat to Florida and Alabama this season, but Ohio State's defense was just as good as the Gators and Crimson Tide's defensive units this year. The Buckeyes' front four created problems for the Ducks' high-powered rushing attack by shooting the gaps and using its speed to get into Oregon's backfield quickly to disrupt plays. The Ducks still rushed for 179 yards, but they certainly weren't as explosive as they had been in the regular season.
Another key to the Buckeyes' win was the play of their secondary. Oregon is a run-first team, but they had a lot of success mixing the pass in with the run to keep defenses off balance this season. But today, Jeremiah Masoli completed just 9-of-20 passes for 81 yards and one interception. OSU's secondary completely shut down Oregon's passing game and made them one-dimensional, which was key late in the game.
This was a nice win for the Big Ten, which improved to 3-2 on the bowl season this year. Had Northwestern cashed in on all of their opportunities today against Auburn, the Big Ten would be rolling right now in bowls.