Colts hand away perfect season, lose to Jets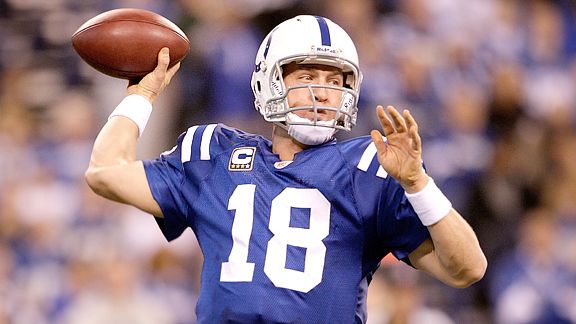 The Indianapolis Colts just answered the question of whether or not an undefeated season is more important than resting their starters: It's not.
By benching Peyton Manning early in the second half on Sunday, the Colts surrendered their chance at a perfect season and subsequently lost to the Jets, 29-15. It was Indy's first loss since October 27 of 2008.
After the game, head coach Jim Caldwell noted that a perfect season was never the Colts' ultimate goal – a Super Bowl is. Some may argue that the Colts have an obligation to the fans (and to the Ravens, Broncos, Steelers, etc.) to leave Manning and the starters in, but what would have happened if Manning snapped his ACL in a meaningless (meaningless for Indy) game late in the season? What's the point of going 16-0 or 15-1 and watching Curtis Painter lose in the Divisional Round of the playoffs?
I felt bad watching Manning on the sidelines, I really did. He's a warrior and a competitor and the guy wants to be in every game. That's why he wins and that's why the Colts have had so much success over the past couple years.
That said, he can be mad on the sidelines all he wants because at least he'll be healthy in three weeks when Indianapolis is playing for a chance at a Super Bowl. An undefeated season would have been great, but in one week nobody (not even Colts fans) are going to give a crap. This might be a story for the media, but it's not to the Colts franchise. Again, in a week, nobody will care about this so hopefully the mainstream media doesn't make an issue of it over the next week.
As for the Jets, they should send a belated Christmas card to Caldwell because if Manning stays in the Colts win this game easily. Manning was shredding the Jets' usually outstanding secondary and if it weren't for a 106-yard Brad Smith kickoff return for a touchdown to open the second half (which was by the way), and a Marques Douglas 1-yard fumble return for a touchdown after a strip of Painter, then New York would have continued to struggle in the second half.
That said, give the Jets credit for coming to play today. They won when their backs were against the wall, which is more than the Giants, Jaguars and Dolphins (three teams that gave up after the freaking coin flip) could say today. A win next week over the Bengals and the Jets amazingly will be headed to the playoffs as a Wild Card. And ironically, the Jets could take advantage of another team resting its starters as Cincinnati has already clinched a playoff spot and will likely bench Carson Palmer and company.
Somebody tell Rex Ryan that his team is still in the playoff hunt. He gets confused sometimes…