Report: Mangini could be out if Holmgren is hired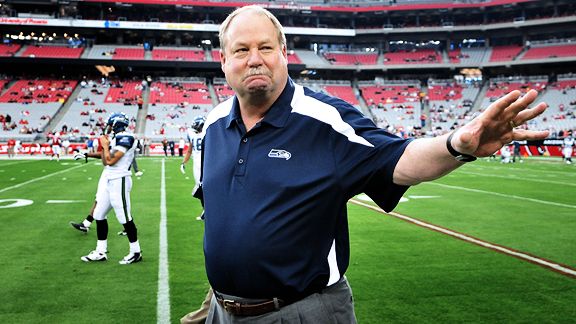 NFL.com's Jason La Canfora reports that if the Browns hire Mike Holmgren to run the football operations in Cleveland, head coach Eric Mangini would likely be shown the door.
Holmgren, retired for a year and nearing the end of his football career, likely would want a fresh direction for the team and his own coach. Specifically, he is likely to reach back to his Bill Walsh/West Coast family tree for his coach, seeking someone who shares the same philosophies, terminology, vernacular and football ideology.

Mangini comes from the Bill Belichick/Bill Parcells tree, which is the inverse as Walsh's tree in many ways. Mangini also has been a controversial figure in Cleveland during his one year there, making it all the more likely that a new president might want to start from scratch with the coaching staff.
When Parcells got to Miami, he immediately fired Cam Cameron, who had only been the Dolphins' head coach for one brutal season. It didn't make sense for Parcells to retain Cameron when he wanted one of his guys (Tony Sparano) to run the team. The same could be said for Holmgren. If he doesn't think Mangini is a fit, there's no sense wasting another year to see if the two could work together. Cut bait and move on.
Since Holmgren is a West Coast guy, some of the names being thrown around as an eventual replacement for Mangini include Jon Gruden, Steve Mariucci (meh), Jim Zorn (ugh), Dick Jauron (ugh!) and Marty Mornhinweg (ugh!!). If I were a Cleveland fan, the only person that I would want to see walking the sidelines in that group is Gruden, although Mariucci wouldn't be a horrible choice. The other three – Zorn, Jauron and Mornhinweg – have proven that they make better coordinators than head coaches.