Decade Debate: 15 Best College Football Players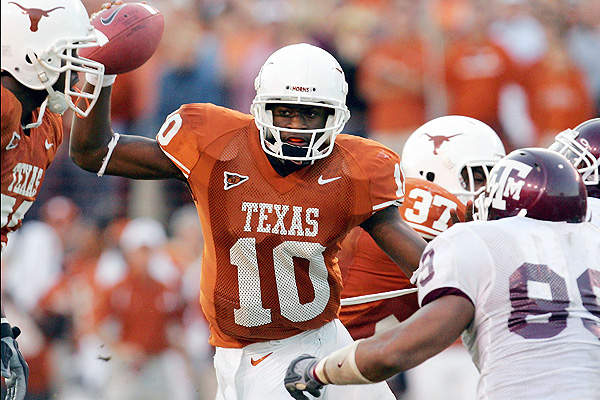 Judging which college football player was the best over the past decade can be a tricky endeavor. Do you rank a player that has won a Heisman higher than one that has not? Do you penalize a player if he played in a pass-happy system that allowed him to put up lofty numbers? Do you judge his performance based on the talent around him or the difficulty of his competition? As part of our ongoing Decade Debate series, here is a top 15 ranking of the best college football players of the past decade. Perhaps more than any of our lists in this decade series, this one could be debated the most given the factors that surround it.
15. C.J. Spiller, RB, Clemson

If you want to be entertained, try turning on a Clemson game and watching Spiller for three-plus hours. He's a terrific runner, an electrifying return man and one of the deadliest weapons in college football. He is the only player besides Reggie Bush to post 2,500 yards rushing, 1,500 yards in kickoff returns, 1,000 yards receiving and 5,000 yards in punt returns. He's also tied a NCAA record for most kickoff returns for touchdowns with six. If it weren't for a lackluster junior season, he'd probably rank higher on this list.
14. Dan LeFevour, QB, Central Michigan

If you don't know who Dan LeFevour is or scoffed at him being ranked on this list, then you haven't been paying attention to college football the past couple years. LeFevour hasn't received the attention that Tim Tebow, Colt McCoy or Sam Bradford have, but he's posted better numbers than each of the three in almost every category. In 2007, he became only the second player in D-I history to pass for over 3,000 yards and rush for over 1,000 yards in a single season (Vince Young was the first). He also is the MAC's all-time leader in total offense and currently holds the conference record for career completions, attempts, passing yards, passing touchdowns, total touchdowns and total offensive yards. He has totaled more touchdowns than any player in college football history and is third all-time in total offensive yards. Has he faced the talent that Tebow, McCoy and Bradford have over his career? No. But consider this: He doesn't have the same talent around him either. Imagine what LeFevour could have accomplished playing with a defense the likes of Florida, Texas or Oklahoma's.
13. Michael Crabtree, WR, Texas Tech

Did Crabtree play in a system that allowed him to rack up tons of numbers? Absolutely. But he was always a phenomenal player, one capable of single-handily taking over a game with his skill level. He was a two-time All-American, a two-time Biletnikoff Award winner and a two-time Paul Warfield Trophy winner. He also played a huge role in Texas Tech' upset over No. 1 Texas two years ago while hauling in 10 receptions for 127 yards and one touchdown – which happened to be the game-winner late in the fourth quarter. Had he played more than just two seasons, he might have topped all other receivers on this list.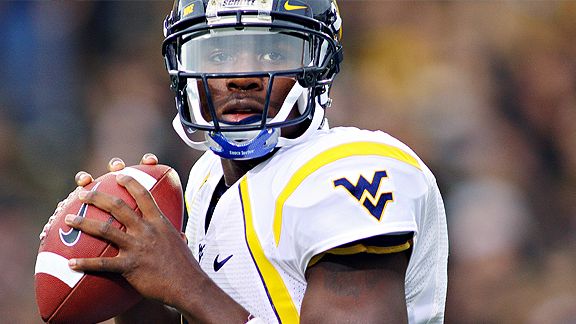 12. Pat White, QB, West Virginia

Even though some will argue that he had things easy playing his career in the Big East, nobody can deny what White accomplished on the field. He racked up 6,051 passing yards and 56 passing touchdowns, while also compiling 4,480 yards and 47 rushing touchdowns. He accounted for a whopping 10,531 yards and 103 touchdowns over his career and also finished sixth in the NCAA among the most career victories as a starting quarterback with 34. Along with Steve Slaton, White helped put West Virginia on the map in terms of national title contention.
11. Troy Smith, QB, Ohio State

Smith's college career didn't end well, as he completed just four of 14 passes for 35 yards along with an interception, a fumble and five sacks (uh, just to be clear, he was the one being sacked) in an embarrassing 41-14 loss to the Gators in the 2007 national title game. But Smith was a solid college quarterback, racking up 5,720 passing yards and 54 touchdowns over his career. He threw only 13 interceptions and also completed 62.7% of his passes while compiling just under 8,000 total yards and 68 total touchdowns. In 2006, he beat out Darren McFadden and Brady Quinn to win the prestigious Heisman Trophy and even though they lost, he led the Buckeyes to one of their three national title appearances of the decade.
10. Adrian Peterson, RB, Oklahoma

Peterson's freshman season at Oklahoma was absolutely phenomenal and was almost good enough to get him on this list on its own. He broke the NCAA freshman rushing record with 1,925 yards and also led the nation in carries with 339. He was a finalist for the 2004 Heisman Trophy Award, which was the highest finish ever for a freshman player. Due to an ankle injury, he finished with only 1,208 yards and 14 touchdowns in 2005. A collarbone injury also took away most of his junior season, but he managed to finish with 1,112 rushing yards for a total of 4,045 rushing yards for his career. He finished just 73 yards shy of passing Billy Sims as Oklahoma's all-time leading rusher.
9. Eric Crouch, QB, Nebraska

Consider this: Since Crouch graduated, no Nebraska team has finished in the top 10. The last of the great Cornhusker option quarterbacks, Crouch finished with a 21-4 record as a starter and helped lead a Nebraska offense that finished as the nation's best in 2000 and 2001. The 2000 squad still holds the mark for the highest team rushing average of the decade with 349.3 yards per game.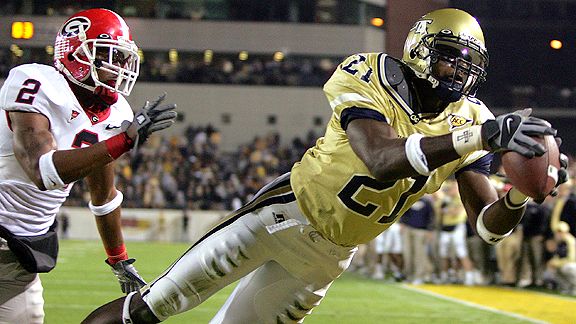 8. Calvin Johnson, WR, Georgia Tech

Johnson's Yellow Jackets never contend for any national titles, but that doesn't mean he isn't deserving of this ranking. He finished just shy of 3,000 yards for his career with 28 touchdowns, racked up 13 100-yard receiving games, and won the Biletnikoff Award in 2006. He was usually a one-man wrecking crew for GA Tech and virtually impossible to cover one-on-one. Despite facing double and even triple teams at times, he routinely made highlight reel plays and wound up being the highest player ever drafted out of Georgia Tech when the Lions selected him with the No. 2 overall pick in 2007.
7. Darren McFadden, RB, Arkansas

McFadden was so good at Arkansas that the team essentially didn't even need to have a quarterback on the field. The original Wildcat back, McFadden rushed for 4,590 yards in his career, which ranks him second all-time in career rushing yards in the SEC behind the great Herschel Walker (Georgia). McFadden also ranks seventh all-time in the SEC for career rushing touchdowns with 41 and holds most of Arkansas' rushing records. He wound up throwing seven passing touchdowns out of the Wildcat formation and totaled 51 touchdowns in his three-year career. He capped off his collegiate career by helping the Razorbacks beat No. 1 LSU in triple-overtime in 2007.
6. Matt Leinart, QB, USC

Even though the man (Carson Palmer) he replaced was pretty damn good, Leinart is arguably the greatest passer in USC history. For his career, Leinart finished with 807 of his 1,245 pass attempts for a competition percentage of 64.8. He racked up 10,693 passing yards and 99 touchdowns to just 23 interceptions, making him the Trojans' all-time leader in career touchdown passes and competition percentage. He ranks only second behind Palmer in completions and yardage and averaged nearly 8.6 yards per attempt while compiling an impressive 37-2 record as a starter. Ah yeah, he also won a Heisman Trophy, led USC to a BCS national championship in 2004 and an AP national championship in 2003.
5. Colt McCoy, QB, Texas

It would take an hour to list the many records McCoy has set in his career, but here are just a few: He holds UT's record for most total touchdowns, most touchdown passes in a career, most passing completions in a game, most consecutive passing completions in a game and most career passing yards in a season. He also holds the NCAA's highest single season completion percentage at 77.6% and most wins by a starting quarterback with 44. McCoy was the runner up in last year's Heisman race and before it's all said and done, he might have a national title under his belt as well. Considering who took the snaps before him at Texas, his feats are nothing to scoff at.
4. Larry Fitzgerald, WR, Pittsburgh

Fitzgerald won the Biletnikoff award for the best receiver in college football in 2003 and was a unanimous All-America selection that year as well. He also came in second for the Heisman in 2003, which was the closest a wideout has come to winning the prestigious award since Desmond Howard won it in 1991. For his career, Fitz caught 161 passes for over 2,600 yards and set a school record with 34 receiving touchdowns. He was also the only player in PITT history to notch consecutive 1,000-yard receiving seasons and he set a NCAA record with at least one touchdown catch in 18 straight games. At times, he was almost un-guardable – much like he is now in the NFL.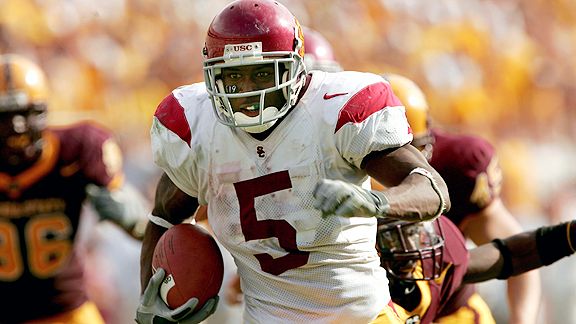 3. Reggie Bush, USC

Bush was an absolutely electrifying open-field runner and one of the most dangerous athletes while playing for USC. He won the Heisman Trophy in 2005 by averaging 8.7 yards per carry, while also rushing for over 1,700 yards and scoring 16 total touchdowns. He ranks 10th in college football Division I-A history with 6,551 all-purpose yards and was one of the most thrilling athletes to ever play in the NCAA. During his Heisman season in 2005, he led the nation with more than 220 all-purpose yards per game and was almost unstoppable with the ball in his hands. Unfortunately, his career will also be associated with the possibility that he accepted cash and prizes under the table.
2. Vince Young, QB, Texas

Talk about a winner: Young posted a 30-2 career record while at Texas. His .938 winning percentage as a starting quarterback ranks sixth best in Division I-A history and places him No. 1 in wins by UT signal callers. His 6,040 career passing yards ranks him fifth in school history, while his 44 touchdowns ranks him fourth. His 3,127 rushing yards makes him UT's all-time leading player in that category and his 37 rushing touchdowns places him fifth. Young will be best known for what many consider to be the greatest performance in Rose Bowl history after he rushed for 200 yards and threw for 267 yards in a thrilling come-from-behind 41-38 victory over USC.
1. Tim Tebow, QB, Florida

Perhaps the greatest thing about Tebow is that he's more than just records – and yes, he has those too. He holds the SEC record for rushing touchdowns and points scored and was the first player to compile 20-plus touchdowns rushing and passing in the conference's history. He's also been apart of two national championship teams, is a two-time Maxwell Award winner, a three-time First-team All-SEC winner, the 2007 Davey O'Brein Award winner and the 2007 Heisman Trophy winner. But on top of that, perhaps no player outside of Vince Young has willed his team to victory this past decade more than Tebow has. He epitomizes what college football is all about: Passion, pride and determination. He might not make a great NFL quarterback some day, but he has been one hell of a college football player this past decade.
Honorable Mention: Colt Brennan, QB, Hawaii; Graham Harrell, QB Texas Tech; LaDainian Tomlinson, RB, TCU; Sam Bradford, QB, Oklahoma, Carson Palmer, QB, USC; David Pollack, DE, Georgia; Ken Dorsey, QB, Miami; Eric Berry, S, Tennessee; A.J. Hawk, LB, Ohio State; Ed Reed, S, Miami; Andre Johnson, WR, Miami; Jamar Fletcher, CB, Wisconsin; Terrence Newman, CB, Kansas State; Tommie Harris, DT, Oklahoma; Jason White, QB, Oklahoma, Ndamukong Suh, DT Nebraska.

Photo from fOTOGLIF