No need to hit the panic button on Matt Ryan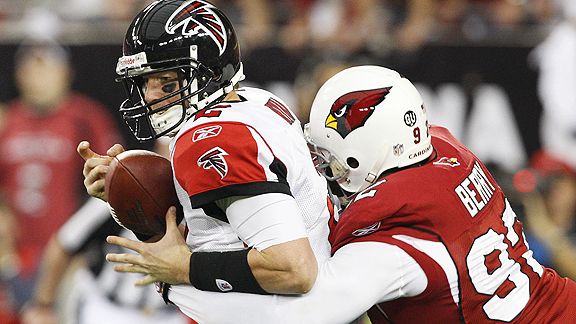 In his first four games of the 2009 season, Atlanta Falcons second-year quarterback Matt Ryan had a QB rating of 98.0, 122.2, 82.3 and 110.0. He was off to a fantastic start and people started to assume that he would have Tom Brady-like numbers every game.
But in his last three outings, Ryan has QB ratings of 68.4, 66.1 and 46.6 and now all of a sudden he's drawing comparisons to Rex Grossman. (Okay, so Ryan has never been compared to Grossman, but you get my feeble attempt at exaggerating my point.)
After his three-interception game last Monday night against the Saints, I've read at least two articles from the Atlanta Journal-Constitution about how Ryan doesn't look like the same player he was as a rookie. The overall tone of the articles was that the Falcons should be worried, because "Matty Ice" hasn't played well in three games.
But people need to take their hand off the ejection button, because Ryan is fine – he's just going through typical growing pains. He had one of the best (if not the best) rookie season of any quarterback to ever play in the NFL, while leading what many believed was a 3-13 team to an 11-5 record and a playoff berth. Entering his second season, the expectations were sky high and now that he's not playing well, some want to question whether or not last season was a fluke.
I'll admit that following his performance in New Orleans on Monday night that he hasn't looked like the same player he was last year or at the beginning of this year. He seems to be rushing his throws more and making bad decisions. His cool, calm pocket presence has turned into a rushed dance where he doesn't always work through all of his progressions and set his feet to throw. He also seems to be locking in on Tony Gonzalez or Roddy White and therefore throwing a high number of interceptions. (He's thrown eight in his last four games.)
But all of this doesn't mean the young man is doomed or that what he accomplished last year was a fluke. Normally it takes a quarterback two or three full years before they start performing at a high level, so it's understandable that Ryan is suffering a bit in his development. Plus, he has already shown that he has great work ethic, sound technique and can go through all his progressions while hitting a receiver in stride. He's a good player and truth be told, his protection hasn't been that great the past two weeks, which also aids in him rushing his throws and being off the mark.
Don't forget that Michael Turner took a lot of pressure off Ryan last year and outside of his 151-yard performance against the Saints, he hasn't been the same player either. But if Turner can get going, the offense will become more balanced and teams can't pin their ears back and pass rush Ryan knowing that the Falcons have to throw.
Through all of this, Ryan has the Falcons at 4-3. If his O-line can give him a tad more protection and Turner can build some momentum off the New Orleans game, I have a feeling we'll start to see better play out of "Matty Ice."