Favre claims he played through groin injury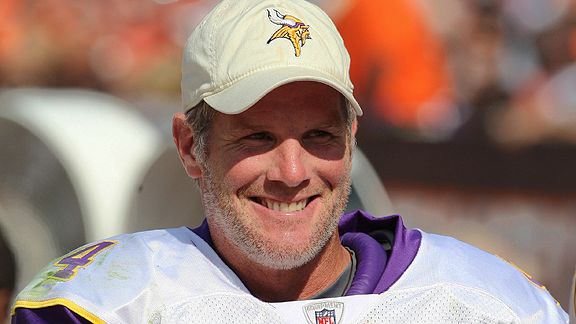 Brett Favre told SI.com's Peter King that he wasn't sure if he was going to be able to play against the Packers yesterday because of a groin injury. Favre claims he suffered the injury last week in practice and then re-aggravated it in pregame warm-ups.
"I told T-Jack [backup Tarvaris Jackson] and [offensive coordinator] Darrell Bevell I may not be able to do it," he said. "I didn't know if I'd be able to drop back very well. After I aggravated it, there was no way I was going to be able to move around in the pocket very much. We never called one bootleg the whole game. But we made it through OK."

And now, I wondered, how was the groin four hours and a lot of lost adrenalin later?

"It's throbbing right now," he said.
Oh…come…on. Look, I don't doubt that Favre injured himself in practice (he is 60 years old after all) and then re-injured himself during pregame warm-ups. I also don't doubt that he told Jackson and Bevell that he was hurt and might not be able to play.
But I don't buy for a minute that he was going to hold himself out. He wasn't going to allow a groin injury to get in the way of beating the Packers at Lambeau and if anything, I'm willing to bet that he wanted people to know that he was hurt just so he could build the moment up even more.
Some are going to look at this as the "gritty" Brett playing through pain; I'm sure ESPN is already salivating thinking about the story. But I think this guy has a lot of people fooled.
Maybe I'm being to cynical and over thinking this, but it's Brett's comments that bug me the most. If King asked him how he was feeling and Brett said, "Well Pistol Pete, I'm a little sore because of a groin injury I suffered last week," then I wouldn't question him because the comment would have been more fly-by.
But no, Brett made damn sure to note that he might not have been able to play. To me, that's just another prima donna move by one of the more underrated prima donna athletes of all-time.
Posted in: NFL
Tags: Anthony Stalter, Brett Favre, Brett Favre beats Packers, Brett Favre burns Packers, Brett Favre played hurt, Brett Favre sucks, Brett Favre Vikings, Green Bay Packers, Minnesota Vikings, Vikings Packers, Vikings Packers recap, Vikings Packers score, Vikings vs Packers