Oregon stuns USC, gains control of Pac-10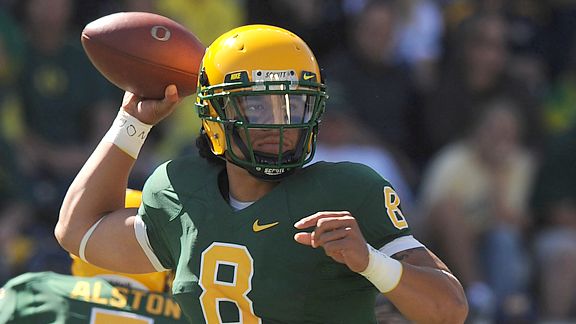 "There's a new king in the Pac-10."
That's what many pundits will be saying after Oregon's daunting victory over USC. A couple games remain on the schedule, but Oregon is clearly the best team in the Pac-10 at this point. Oregon is still only undefeated Pac-10 team in conference play, while USC now has two losses. You can't argue with that.
The Ducks came fully prepared to play this assumed Pac-10 championship game at the Autzen Zoo. Chip Kelly did something magical to this squad after their loss to Boise State, because the Ducks have been on a tear ever since. The Trojans, on the other hand, have recently looked shaky against Notre Dame and Oregon State. Strangely, their offense has been clicking while their defense has surrendered at least 27 points in their last two contests.
Many have ignored these performances but continued to criticize Oregon's defense. Fact is, the Ducks have gotten it together on both ends of the field. Facing their toughest opponent yet in USC, the Trojans could only muster 109 yards rushing 160 receiving. Their quarterback Matt Barkley did throw two touchdown passes, but USC couldn't convert third downs, as they finished 3-12 for the night.
Oregon quarterback Jermiah Masoli has taken a fair amount of criticism for his passing game. Like Tim Tebow, he likes to run the ball, but is often ineffective at involving his entire offense, unlike the Heisman winner. While four of Oregon's five touchdowns came off rushing, Masoli did throw for 220 yards, including a nice touchdown pass to Jamere Holland. Most importantly, he looked confident out there, going great lengths to utilize his teammates.
Take a look at this: Oregon had over 600 yards of total offense. So much for USC's impenetrable defense. We'll see where Oregon ends up, but they truly should be proud of this win.