The ACC takes a hit with NC's upset of VA Tech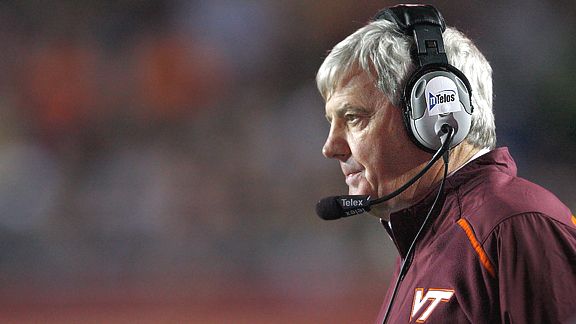 In the past two weeks, Frank Beamer's Hokies have seen their season implode. After winning five straight to get to 5-1 on the season (they dropped the opener to Alabama), Virginia Tech was soundly defeated by Georgia Tech last Saturday and then was shocked last night by North Carolina, 20-17.
How do the Tar Heels walk into Blacksburg and earn a victory you ask? Well it helps when quarterback Tyrod Taylor starts the game 3-for-9 passing and finishes with only 161 yards and no touchdowns. He was highly inaccurate all night and often put the Hokies in third-and-longs by taking unnecessary sacks instead of getting rid of the ball.
That said, North Carolina's defense deserves credit for pressuring Taylor the entire night and not allowing freshman running back Ryan Williams to run wild. He finished with 96 yards on 23 carries and no touchdowns, which is certainly respectable, but a far cry from some of his previous outings.
The Tar Heel defense stepped up big time in the first half while their offense sputtered, and then held on in the second half when the Hokies tried to make a run. Jheraine Boyd's 13-yard touchdown pass from T.J. Yates right before the half gave North Carolina the momentum and confidence it needed to compete with the Hokies in the second half.
Not to crap on North Carolina's accomplishment, but this wasn't a favorable outcome for the ACC. VA Tech's loss will likely drop them out of the top 25 and probably out of the top 15 of the BCS standings. That leaves Georgia Tech as the only ACC team in the top 15, and chances are the conference won't have two BCS bowl teams.
But as they say: Oh, well. For a struggling North Carolina team to upset Virginia Tech on the road is quite an accomplishment and the bigger picture in the ACC shouldn't tarnish what the Tar Heels did last night.