2009 NFL Week 8 Picks & Predictions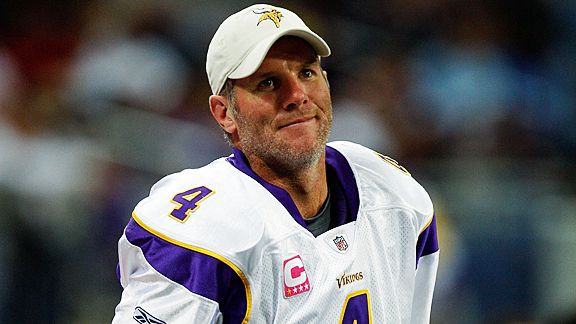 Here are my quick-hit picks for Week 8 in the NFL:
Worth being in trouble with your significant other for:
Vikings (6-1) at Packers (4-2), 4:15PM ET
I think the Packers will have a little something for Brett Favre this time around. I realize he was a legend in Green Bay, but the Packer faithful need to boo this man just as they would Steve Young or Troy Aikman. As long as the Packers somehow figure out a way to get a body in front of Jared Allen, I think they beat a Minnesota team coming off an emotional loss in Pittsburgh last week. Call me crazy, but I don't think this one will be as close as many expect.
Odds: Packers –3.
Prediction: Packers 30, Vikings 17.
Giants (5-2) at Eagles (4-2), 1:00PM ET
The Giants are hoping to get a few defensive starters back this week (most notably Michael Boley and Chris Canty), but their concern right now should be moving the ball against a Philadelphia defense that played inspired last week in Washington. (Of course, it was Washington.) Both of these offenses struggled last week trying to move the chains consistently and I can see turnovers playing a huge role in this key NFC East battle. Considering the Eagles lead the league in turnover margin, I think they get a win at home. It's hard to fathom the G-Men losing three straight, but outside of their Week 2 win against the Cowboys, they haven't been good against teams with winning records this season.
Odds: Giants –1.
Prediction: Eagles 20, Giants 17.
Broncos (6-0) at Ravens (3-3), 1:00PM ET
The Broncos haven't given anyone a reason not to trust them. They've played great defensively, have remained balanced offensively and continue to prove doubters wrong. That said, I think this is the week they suffer their first loss. The Ravens are desperate and Denver doesn't really have the explosive passing attack to take advantage of Baltimore's issues in the secondary. I'm willing to bet the Ravens' coaching staff figured a few things out in their off week and Baltimore will come out ready to play on Sunday.
Odds: Ravens –3.
Prediction: Ravens 23, Broncos 17.
Falcons (4-2) at Saints (6-0), 8:30PM ET Monday
The Falcons are in trouble. Their secondary is starting to show the same problems it had in preseason and Drew Brees should take advantage of that and torch Chris Houston and company. The only chance Atlanta has is to force turnovers on defense and get Michael Turner going in order to leave Brees on the sidelines. I don't see it happening.
Odds: Saints –10.
Prediction: Saints 38, Falcons 24.
Worth tuning into:
Dolphins (2-4) at Jets (4-3), 1:00PM ET
Even though the two teams combined for over 50 points in their last meeting, this latest battle will be a low-scoring, defensive struggle. I actually like Miami to pull off the small upset this week, because if the Dolphins have struggled with anything this season, it's quarterbacks that can beat them throwing the ball vertically. Mark Sanchez can't do that (at least not yet anyhow), so I'm taking Chad Henne and the Fish to sweep the season series in this matchup.
Odds: Jets –3.5.
Prediction: Dolphins 16-13.
49ers (3-3) at Colts (6-0), 1:00PM ET
While I like the move of Alex Smith starting over Shaun Hill, I think the 49ers have been exposed for what they really are: Overrated. That's not to say that they're not a good team because they are, but I don't see them going into Indianapolis and upsetting a good Colts team on the road.
Odds: Colts –13.
Prediction: Colts 28, 49ers 14.
Seahawks (2-4) at Cowboys (4-2), 1:00PM ET
If the Cowboys play with the same focus and intensity as they did last week against the Falcons, then they'll rout a banged up Seahawks team. But considering they've never been consistent under Wade Phillips, I bet this game will be closer than people think.
Odds: Cowboys –10.
Prediction: Cowboys 20, Seahawks 13.
Texans (4-3) at Bills (3-4), 1:00PM ET
The Bills have won two straight thanks to their defense setting up the offense with great field position due to turnovers. But the Texans will take better care of the ball than Buffalo's previous two opponents and come away with their third straight victory on Sunday.
Odds: Texans –3.5.
Prediction: Texans 27, Bills 13.
Worth being your "B" channel on Sunday:
Jaguars (3-3) at Titans (0-6), 4:05PM ET
It's now or never for Jeff Fisher and Vince Young. Either they get this thing figured out and start winning some ball games or else they both could be looking for employment elsewhere in the offseason. I like the rested Jags to win what could be a sloppy game.
Odds: Titans –3.
Prediction: Jaguars 13, Titans 10.
Panthers (2-4) at Cardinals (4-2), 4:15PM ET
John Fox has decided to hitch his wagon to Jake Delhomme and it's his funeral. The Cardinals need to build on the momentum they got last Sunday night in their win over the Giants and start pulling away in the NFC West.
Odds: Cardinals –10.
Prediction: Cardinals 28, Panthers 14.
Worth checking the score every half hour while praying you lived in a different area:
Browns (1-6) at Bears (3-3), 1:00PM ET
The Bears need a win in the worse way after their brutal performance in Cincinnati last Sunday. Fortunately for them, its' Walter Payton day and they get to play a horrendous Browns team that hasn't scored a touchdown in five straight quarters.
Odds: Bears –13.
Prediction: Bears 28, Browns 14.
Raiders (2-5) at Chargers (3-3), 4:05PM ET
If San Diego can put together back-to-back impressive wins over bad teams, it might give them confidence heading into the second half. The Chargers haven't played consistently on defense this year, but JaMarcus Russell is a joke and the Raiders will once again have trouble scoring.
Odds: Chargers –16.
Prediction: Chargers 30, Raiders 6.
Worth poking your eyes out so you don't actually have to see any of it:
Rams (0-7) at Lions (1-5), 1:00PM ET
If the Rams don't win this Sunday, they have a pretty good chance of going 0-16 this season, which is ironic when you consider who their opponent is this week. If anyone invests three hours of their time watching this game in its entirety, they should be immediately checked into a psychiatric hospital. That said, I'm glad Matthew Stafford is back for the Lions because he showed promise before he got hurt and I'd like to see him continue to develop.
Odds: Lions –4.
Prediction: Lions 20, Rams 14.