Titans to start Young against Jaguars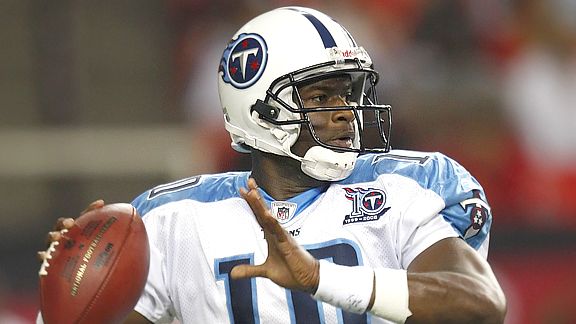 According to ESPN.com, the Titans will start Vince Young at quarterback this Sunday against the Jaguars. Young will replace Kerry Collins, who is 0-6 this season as a starter.
This move is long overdue. I've been writing for weeks how Young isn't the answer, but Jeff Fisher had to do something because Collins just flat out couldn't move the offense. Nobody should expect Tennessee to magically turn around its season now that Young is under center, but maybe he'll give the team a spark.
The next thing Fisher should do is scale back the playbook and exploit Young's athletic abilities. For Fisher and the Titans, now is about winning games and not trying to develop Young as a passer. So if that means he only attempts 15 passes and runs the ball 10 times, so be it.
It's time for Young to prove everyone wrong. Obviously Fisher doesn't have a ton of confidence in his abilities or else he would have been starting over Collins two weeks ago, so now it's up to Young to produce. He showed in his rookie year that he could win in the NFL, so now he needs to rekindle some of that magic and win a couple ballgames to prove that he can be a starting quarterback in this league.
These next couple weeks are crucial for Fisher and Young. Winning is the only thing that will help them retain their current jobs, or at the very least ensure that they will find employment elsewhere.
Follow the Scores Report editors on Twitter @TheScoresReport. You can also follow TSR editor Gerardo Orlando @clevelandteams and @bullzeyedotcom, and you can follow TSR editor Anthony Stalter @AnthonyStalter.
Picture of the Day
Enjoy a daily photo from Bullz-Eye.com of one of their beautiful models.
Improve your game today!
You've got to brush up on your game to get the girl! Find your hookups with this online dating guide.
Sexy Girls and Cars
Check out this slideshow of hot babes and cool cars.