Publisher of Donaghy tell-all pulls book from shelves because the NBA threatened to sue…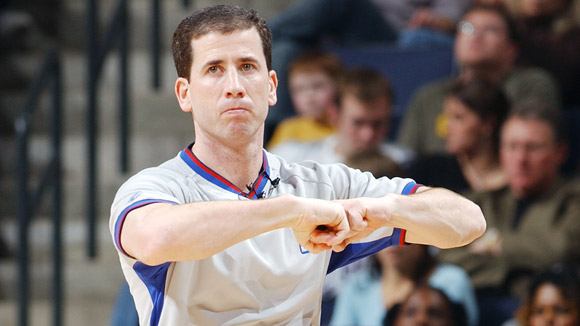 …at least according to Donaghy's liason to the book publisher. (ESPN)
Pat Berdan, a senior consultant at Executive Prison Consultants and Donaghy's liaison to the book publisher, told ESPN.com on Wednesday night that the NBA "threatened that they would sue" if the book was published. An NBA spokesman denied the claim, saying the league was aware of the book but had not received or reviewed a copy.
What is the NBA afraid of? Well, you can read excerpts for yourself over at Deadspin. Here's a taste:
The 2002 Western Conference Finals between the Los Angeles Lakers and the Sacramento Kings presents a stunning example of game and series manipulation at its ugliest. As the teams prepared for Game 6 at the Staples Center, Sacramento had a 3–2 lead in the series. The referees assigned to work Game 6 were Dick Bavetta, Bob Delaney, and Ted Bernhardt. As soon as the referees for the game were chosen, the rest of us knew immediately that there would be a Game 7. A prolonged series was good for the league, good for the networks, and good for the game. Oh, and one more thing: it was great for the big-market, star-studded Los Angeles Lakers.

In the pregame meeting prior to Game 6, the league office sent down word that certain calls — calls that would have benefitted the Lakers — were being missed by the referees. This was the type of not-so-subtle information that I and other referees were left to interpret. After receiving the dispatch, Bavetta openly talked about the fact that the league wanted a Game 7.

"If we give the benefit of the calls to the team that's down in the series, nobody's going to complain. The series will be even at three apiece, and then the better team can win Game 7," Bavetta stated.

As history shows, Sacramento lost Game 6 in a wild come-from-behind thriller that saw the Lakers repeatedly sent to the foul line by the referees. For other NBA referees watching the game on television, it was a shameful performance by Bavetta's crew, one of the most poorly officiated games of all time.
This is certainly sobering, if true. But Donaghy has every reason to lie. It helps his reputation somewhat if he can sully the reputation of his peers (i.e. he wasn't just a "bad apple") and he can make a buck by telling outlandish stories about rampant corruption in the NBA.
I remember watching Game 6 of that Lakers/Kings series in '02, and it was poorly officiated, but I chalked it up to my own distaste for the Lakers. Donaghy also mentions that Bavetta worked Game 7 of the '00 Lakers/Blazers series, when Portland was somehow outscored 31-13 in the fourth quarter to blow the series. The Lakers shot 37 free throws in that game compared to the Blazers' 16.
Like I said, this is sobering, if true.