Is this Vikings team the best Favre has ever been on? Former Packers teammates disagree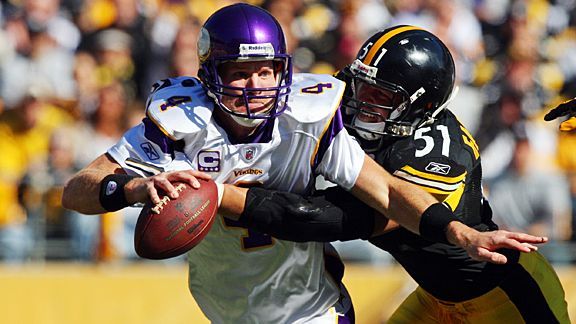 Earlier this season, Brett Favre said that the 2009 version of the Vikings was the best team he's ever been on based on a physical and talent level. But some of Favre's teammates from the Super Bowl-winning 1996 Packers team disagree.
"To say that the team he's on now, after seven games, is better than the '96 team — that's just preposterous. Not only did we have the No. 1 defense in 1996, but we had No. 1 special teams," former safety LeRoy Butler told the Journal Sentinel. "I bleed green and gold so much. I don't want somebody to beat my team."

Mark Chmura, a tight end on the '96 team, said he went through the rosters position by position and could not find an advantage for the Vikings. "And it all starts with Brett — Brett's not as good as he was," he said, according to the report.

"I mean, you're talking about the No. 1 defense in the league at that time, maybe one of the best defenses ever to play the game," Chmura added, according to the report. "Don't get me wrong. Favre is still a good quarterback, but he was unbelievable in the day. When we played back then, teams feared us. I don't know if teams fear the Minnesota Vikings today. We knew no one could beat us at home, absolutely nobody."
This is a situation where Favre probably didn't really mean what he said, but he was trying to make people believe that the Vikings were/are a great fit for him and that he could lead them to the playoffs. In other words, he was trying to pump himself and his new team up.
That said, it's hard to argue with Favre's ex-teammates. That Packers team used to script the first 10-15 plays and march right down the field for six almost every time on their first offensive possession. Opponents then had to try and play catch up against Green Bay's relentless defense, which often proved to be a fruitless endeavor.
The Vikings are good, but they aren't Super Bowl-good. (At least not yet anyway.)