Blake Griffin to miss six weeks with a stress fracture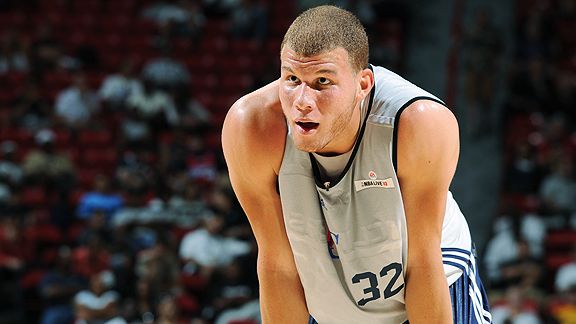 This is very bad news for the once-likely Rookie of the Year. (LA Times)
Clippers' rookie power forward Blake Griffin, the No. 1 overall draft choice in June, has a stress fracture of the left patella, or kneecap, and could miss as much as six weeks of the season.

Tests revealed the fracture and a second opinion later in the day backed up the results and conclusion of the first doctor.

A Clippers spokesperson said it is a non-displaced fracture. But the team will take a conservative approach, meaning Griffin could be out of action until December. On top of the fracture, Griffin is also dealing with tendinitis of the left knee and has been said to have been playing with some measure of pain.

He suffered the stress fracture in the team's final exhibition game against New Orleans on Friday, wincing after he came down on a dunk late in the third quarter.
The Clippers (wisely) shipped Zach Randolph to Memphis to clear minutes for Griffin, so they are suddenly a little thin on the front line. Chris Kaman and Marcus Camby will likely see an increase in playing time, and DeAndre Jordan and Craig Smith should see a big jump in minutes as well.
With Griffin sidelined, the race for Rookie of the Year is pretty wide open, though I have to give Tyreke Evans frontrunner status for the time being. He is going to get a ton of minutes and should be immediately effective at the NBA level. The Bucks' Brandon Jennings is my darkhorse pick.