2009 NFL Week 7 Picks & Predictions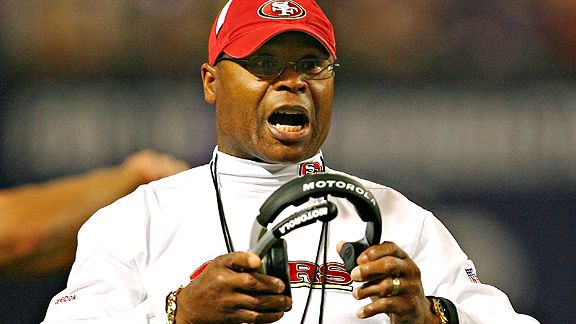 Instead of limiting myself to only four games like I have the previous weeks, I've decided to channel my inner Peter King and make predictions (with smaller write ups) on every contest on the NFL schedule this week.
49ers at Texans, 1:00PM ET
It had to have been a long two weeks for San Francisco's players after the Falcons drubbed the Niners 45-10 in Week 5. Mike Singletary will have his team more focused and I think we'll see a great defensive effort from San Fran this Sunday to slow down a potent Houston offensive attack.
Odds: Texans –3.
Prediction: 49ers 20, Texans 17.
Packers at Browns, 1:00PM ET
This will be a closer game than most think. The Packers could be looking ahead to a home date with the Vikings next Sunday, although in the end Cleveland's offense is putrid and while Green Bay has been inconsistent defensively this year, I think they'll do enough to get the Pack a victory.
Odds: Packers –9.
Prediction: Packers 24, Browns 16.
Chargers at Chiefs, 1:00PM ET
Ron Rivera has no clue on how to get San Diego's defense back on track, but the young, inexperienced Kansas City secondary could have issues slowing down Philip Rivers and the Bolts' passing game. Still, I think Matt Cassel and company pull off a surprise upset at home against a San Diego team coming off a short week.
Odds: Chargers –5
Prediction: Chiefs 20, Chargers 18.
Colts at Rams, 1:00PM ET
The Rams have given a nice effort the past two weeks, but this is a horrible matchup for them – even at home. Peyton Manning and company is well rested and the Indy defense will harass Marc Bulger all game.
Odds: Colts –14
Prediction: Colts 34, Rams 14.
Vikings at Steelers, 1:00PM ET
Troy Polamalu was limited in practice this week, which isn't a good sign for a Pittsburgh defense that desperately needs him in this matchup. The Vikings shouldn't get away from their game plan because it's working, although I think this is the first week they stumble. The Steelers haven't looked impressive all season, but Ben Roethlisberger will connect on enough big plays to aid the Steelers in a tight victory.
Odds: Steelers –5.5.
Prediction: Steelers 28, Vikings 24.
Patriots at Buccaneers, 1:00PM ET
What a crappy game for the folks in London. The Buccaneers haven't done much right this season and will face a Patriots team coming off a 59-0 effort against the Titans in Week 6. Tampa won't have much of an answer for Tom Brady as New England rolls.
Odds: Patriots –15.
Prediction: Patriots 33, Buccaneers 10.
Jets at Raiders, 4:05PM ET
Oakland is coming off its best effort of the season in a win over the Eagles in Week 6, while the Jets are coming off their worst in a loss to the Bills. Mark Sanchez is struggling, but the Jets will put the game in the hands of their running backs to ease out a win. The Raiders will have a tough time scoring again this week.
Odds: Jets –6
Prediction: Jets 16, Raiders 7.
Bills at Panthers, 4:05PM ET
After wins over the Redskins and Bucs the past two weeks, the Panthers are playing with confidence and a win over the Bills would get them back in contention (at least for the moment). Fortunately for them, Buffalo continues to struggle offensively and has been brutal against the run. DeAngelo Williams could be in store for a breakout game this Sunday.
Odds: Panthers –7.
Prediction: Panthers 27, Bills 16.
Bears at Bengals, 4:15PM ET
The Bears can't run the football right now, but they catch a break this week facing a Bengals team that won't have defensive end Antwaan Odom, who is out for the season after suffering an injury last week. Jay Cutler should have plenty of time to throw and as long as he doesn't turn the ball over (this game isn't on Sunday night, so he shouldn't), the Bears should pick up a big road victory.
Odds: Bengals –1.
Prediction: Bears 20, Bengals 17.
Falcons at Cowboys, 4:15PM ET
The Cowboys are well rested coming off their bye, but they face a Falcons team that is playing well defensively right now. John Abraham and company should drum up a good pass rush and force Tony Romo to make some mistakes. Atlanta has done an excellent job protecting Matt Ryan, who could have a big day zipping the ball around Jerry Jones' new stadium.
Odds: Cowboys –4.
Prediction: Falcons 28, Cowboys 24.
Saints at Dolphins, 4:15PM ET
The Dolphins are winners of two straight and are coming off a bye, but they've had issues against quarterbacks that can get the ball out of their hands quickly and attack a defense vertically (see Matt Ryan, Peyton Manning and Philip Rivers). I don't see Miami's defense slowing down Drew Brees and the high-powered Saints' offense. As long as New Orleans can stop the Dolphins' ground attack, they'll remain undefeated.
Odds: Saints –6.5
Prediction: Saints 27, Dolphins 20.
Cardinals at Giants, 8:20PM ET
I don't like this matchup for the Cardinals, especially with a hobbled Anquan Boldin and the Giants' coming off a loss. The G-Men will played inspired defensively after they were shredded last wee in New Orleans and should give Kurt Warner plenty of trouble, just as they did last year.
Odds: Giants –7.
Prediction: Giants 30, Cardinals 21.
Eagles at Redskins, 8:30PM ET
A week after suffering an embarrassing loss to Oakland, Philadelphia should rebound on Monday night against a Washington team that can do little offensively. I don't see Sherman Lewis turning things around overnight for the Redskins and the Eagles won't allow Donovan McNabb to be sacked six times this week.
Odds: Eagles –7.
Prediction: Eagles 20, Redskins 13.
Posted in: NFL
Tags: Ben Roethlisberger, Bengals, colts, Cowboys, Dolphins, Drew Brees, Eagles, Falcons, Matt Ryan, nfl free picks, NFL Picks, Patriots, Peyton Manning, Redskins, Saints, steelers, Tom Brady