2009 NBA Preview: Atlantic Division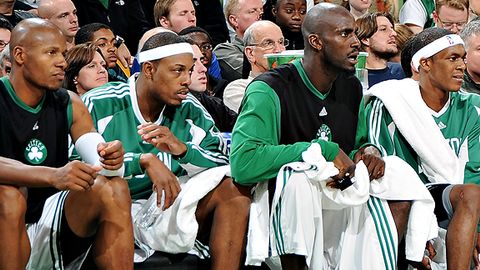 This year, we're doing a division-by-division preview with quick-hitting analysis for every team in the league. If a franchise is a legitimate championship contender, I'll focus on what stars have to line up for a title run. If a team is a playoff "also-ran," I'll identify the weaknesses that have to be shored up via trade, free agency or draft over the next couple of seasons to make it a contender. If a team is likely to miss the playoffs, I'll take a look at the salary cap, and provide a blueprint for how the team should proceed in the near future to get back in the postseason. At the end of each divisional preview, I'll provide some (random) thoughts for the fantasy hoopsters out there.
For each division, I'll pick the order of finish. You'll also see the team's league-wide preseason rank in parenthesis.
Boston Celtics (5)

Normally, the return of a healthy Kevin Garnett would be enough to thrust the Celtics back to contender status, but with the way the rich got richer this summer in terms of talent, GM Danny Ainge knew he had to improve his team, so he went out and signed Rasheed Wallace to give the C's another big body up front. If everyone is healthy, minutes are going to be a problem, as Glen Davis and Kendrick Perkins deserve to play, but one might get squeezed out by Garnett and Wallace. In the backcourt, the big question seems to be the overall attitude of Rajon Rondo, who is running out of time to sign an extension. It is unlikely that he and the Celtics will come to terms by the end of the month as the two sides are reportedly far apart in perceived value. Marquis Daniels was brought in to shore up the backcourt, so the Celtics will once again head into the season with a deep and talented roster. But can everyone stay healthy? If Garnett, Rondo, Paul Pierce and Ray Allen are all feeling good come playoff time, the Celtics will be a serious threat to make the Finals.
Philadelphia 76ers (16)

Elton Brand's season-ending injury but the kibosh on the Sixers' title hopes last year. They still made the playoffs without him, and the truth is, he didn't play all that well when he was healthy. He has appeared in a grand total of 37 games over the last two seasons, so his heath is one of the biggest challenges facing this team. After all, the franchise has plenty of talent to make the playoffs. The Sixers have the versatile Andre Iguodala, the up-and-coming Thaddeus Young, and a few nice prospects in Louis Williams, Marreese Speights and Jrue Holiday. Williams' challenge is to replace the production of Andre Miller, who is now with the Blazers. Williams is more of a scoring guard than a playmaker, so it will be up to Iguodala to help distribute the ball. Given his fragility, the Sixers are probably regretting hitching their wagon to Brand, but it's too late now. Like it or not, they will sink or swim for the next few years with the Brand-Iguodala-Young core.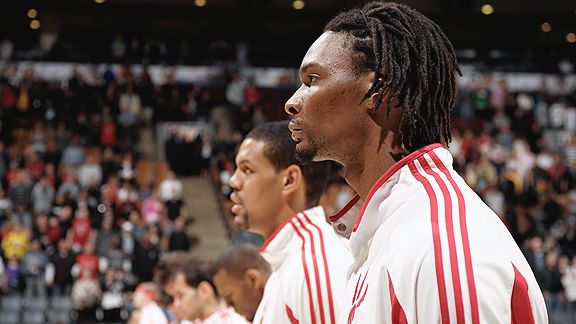 Toronto Raptors (19)

Question: What was Toronto's win total the last three years? Answer: 47, 41 and 33. In other words, the Raptors have been heading in the wrong direction, especially considering that they're building around Chris Bosh (in his prime), Jose Calderon (in his prime) and Andrea Bargnani (entering his prime). Bosh becomes a free agent after the season, and odds are that he's going to be wearing a different jersey next season. GM Bryan Colangelo knows that the best way to convince him to stay is to get the Raptors back in upper echelon in the East. To that end, he went out and signed Hedo Turkoglu, who made a last second decision to head to Toronto instead of Portland. The general consensus is that Turkoglu is a tad overrated, and considering he's already 30 years old, one wonders how effective he'll be in years three through five of his contract. Still, the Raptors had a hole at small forward and they filled it with a versatile player who can shoot, handle the ball and rebound. Colangelo also added Jarrett Jack in free agency, Amir Johnson via trade and DeMar DeRozan in the draft. With all the drama surrounding LeBron James and Dwyane Wade's impending free agency, Bosh may be the most likely to change zip codes in the next year, so the Raptors will be an interesting team to watch this season. The playoffs are very much in reach, but it's probably going to take a trip to the Eastern Conference semis to convince Bosh that the franchise is headed in the right direction.
New York Knicks (20)

In his first year with the team, Mike D'Antoni helped to make the Knicks somewhat competitive again. They won nine more games than the previous year, and drastically improved their ability to score. But heading into the 2009-10 season, the franchise is simply treading water, seemingly waiting for 2010 free agency. The team is building around…well…a player to be named later. The Knicks only have six contracts that extend past this season, and they'll do their darndest to get rid of Eddy Curry ($11.3 M) and Jared Jeffries ($6.9 M) to give themselves as much cap space as possible next summer. As it stands, the Knicks are projected to have about $23 M in cap space, and they'd like to free up another $5 million so that they can afford to land two big-name free agents next summer. The weather isn't as nice as Los Angeles or Miami, but the Big Apple is a very desirable destination for free agents looking to enhance their profile by playing on a big stage. So if there is one team that could pull a 180 and land a couple of superstars en route to instant title contention, it's the Knicks. Keep an eye on the development of Jordan Hill and Brandon Jennings. The 2009 Draft had a ton of good point guard prospects, and the Knicks failed to find their PG of the future, instead drafting a power forward, which was already a position of strength (David Lee). If Jennings blows up and Hill struggles, GM Donnie Walsh will likely come under fire. Then again, if he can land LeBron and Chris Bosh, nary a Knick fan will care.
New Jersey Nets (27)

Think about it – is there a team better primed for a run at LeBron James or Dwyane Wade than the Nets? It looks like they are headed to Brooklyn, they already have an All-Star on the roster (Devin Harris), another one in the making (Brook Lopez) and a ton of cap space (~$20 million) next summer. The Bulls might have the edge with Derrick Rose, Luol Deng, Tyrus Thomas, Kirk Hinrich and Joakim Noah, but it's close. The Nets created all of this cap space by trading away Vince Carter, but managed to get the up-and-coming Courtney Lee in the deal, so it wasn't a true salary dump. Even if the Nets miss out on LeBron and Wade, they wouldn't be a bad landing spot for the next tier of free agents: Chris Bosh, Amare Stoudemire, Joe Johnson and Carlos Boozer. Since they are set at point guard and center (two tough positions to fill), the Nets have some flexibility heading into the summer of 2010. This year? They're going to be bad, but look for Lopez to make a leap as the team uses him more and more to facilitate the offense.
Fantasy Thoughts: Wilson Chandler is currently going in the 9th or 10th round, but is a nice guy to have on your roster. In roto leagues, he's a decent source of steals and threes, while also scoring and rebounding pretty well for a small forward…David Lee is a fringe first round talent, but he's going in the middle of the third. Don't be afraid to pull the trigger in the late second or early third. He should be a double-double machine once again in another contract year…Brook Lopez averaged 13/8 last season in 31 minutes. In the preseason, he's averaging 16/8 in 30 minutes, and isn't shooting the ball particularly well. Since he's likely to top 50% from the field and average 33-35 minutes a game, a 17/10 season is not out of the question…Chris Douglas-Roberts and Courtney Lee are battling to be the starting shooting guard for the Nets, but Lawrence Frank may end up playing them together since Terrence Williams is the next best option on the wing…Despite a substandard preseason, expect Jose Calderon to finish in the top 10 amongst point guards again this season. He is too good of a shooter and playmaker to be held down for long…Louis Williams may end up averaging the fewest assists amongst starting point guards, but he can score. He's currently the PG26 in live drafts, which seems about right…Marreese Speights would be a good handcuff for Elton Brand. The second-year player is averaging 13.7 points and 8.4 rebounds in 21.6 preseason minutes…Not only are Rasheed Wallace's numbers likely to take a hit now that he's playing for the balanced Celtics, he will also have a negative impact on Kendrick Perkins and Glen Davis.
Posted in: Fantasy Basketball, NBA
Tags: 2009 fantasy basketball, 2009 NBA preview, Boston Celtics, Boston Celtics preview, Brooklyn Nets, Fantasy Basketball, Indiana Pacers preview, NBA preview, New Jersey Nets, New Jersey Nets preview, New York Knicks, New York Knicks preview, Philadelphia 76ers, Philadelphia 76ers preview, Toronto Raptors, Toronto Raptors preview