NFL Week 7 Odds & Point Spreads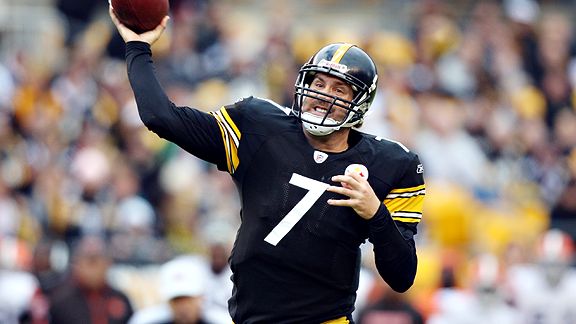 Along with the complete list of odds, here are the four marquee matchups on the Week 7 schedule in the NFL.
Vikings (6-0) at Steelers (4-2), 1:00PM ET
Up to this point, nobody has been able to stop the combination of Brett Favre and Adrian Peterson. Defenses are loading the box in efforts to stop Peterson, and Favre is beating them with his pinpoint accuracy. The Vikings' offensive line has also been outstanding, which obviously has played into how much success the team is currently having. But if there's one defense that could shackle Minnesota's offense, it's Pittsburgh. Troy Polamalu is healthy again and the Steelers have been awfully tough to beat at home throughout the years. The Vikings gave up several big plays in the fourth quarter to the Ravens and Ben Roethlisberger has proven that he can make things happen in the vertical passing game. At 6-0, the Vikings are in good shape win or lose. But if they want to keep pace with the Saints for the top spot in the NFC, then they need to keep winning.
Odds: Steelers –4.
Bears (3-2) at Bengals (4-2), 4:15PM ET
Both of these teams are reeling after suffering defeats in Week 6. The Bears had several scoring opportunities last week against the Falcons and just never capitalized. Chicago is struggling to run the ball right now and is relying heavily on Jay Cutler and the passing game. The Bengals suffered more than just a loss last week, as defensive end Antwaan Odom suffered a season-ending injury. He was a difference maker on Cincinnati's defense and without him, the Bengals might have trouble generating a pass rush. Both of these teams need a win right now to keep pace in their division.
Odds: Bengals –1.5.
Saints (5-0) at Dolphins (2-3), 4:15PM ET
The Dolphins have won their last two games and are fresh coming off the bye, but they've had issues with quarterbacks who can get the ball out of their hands quickly. They struggled to stop Peyton Manning and the Colts and Philip Rivers and the Chargers in previous weeks. The Saints are firing on all cylinders right now and won't look past a Miami team playing with confidence under Chad Henne. Drew Brees could have another big day and as long as the Saints limit the effectiveness of Miami's Wildcat, they should keep their undefeated record intact.
Odds: Saints –6.5.
Falcons (4-1) at Cowboys (3-2)
After the Patriots handed the Falcons their first loss in Week 3, Atlanta went into its bye hell-bent on fixing their defensive flaws. The past two weeks, the Falcons have held the 49ers to 10 points and the Bears to 14 points, respectively. They've also forced a combined six turnovers in those games and found a way to generate pressure. That's not good news for Tony Romo, who has been turnover-prone at times this year and who hasn't received the best protection from his O-line. This is a game Dallas needs to win in order to keep pace in the NFC East, especially with the Giants and Eagles both losing last week. Teams have done a great job bottling up Michael Turner, but have been unsuccessful stopping Matt Ryan. Will Wade Phillips and his defense be up to the challenge?
Odds: Cowboys –4.
2009 NFL Week 7 Odds:
Chargers –5 Over 44
Chiefs +5 Under 44
Colts –14 Over 45
Rams +14 Under 45
Bears +1.5 Over 42
Bengals –1 Under 42
Packers –7 Over 41.5
Browns +7 Under 41.5
Vikings +4 Over 45
Steelers –4 Under 45
Patriots –15 Over 45
Buccaneers +15 Under 45
49ers +3 Over 44
Texans –3 Under 44
Jets –6 Over 35
Raiders +6 Under 35
Bills +7 Over 37.5
Panthers –7 Under 37.5
Saints –6.5 Over 47
Dolphins +6.5 Under 47
Falcons +4 Over 47.5
Cowboys –4 Under 47.5
Cardinals +7 Over 46
Giants –7 Under 46
Eagles –7 Over 37.5
Redskins +7 Under 37.5