2009 NBA Preview: Southeast Division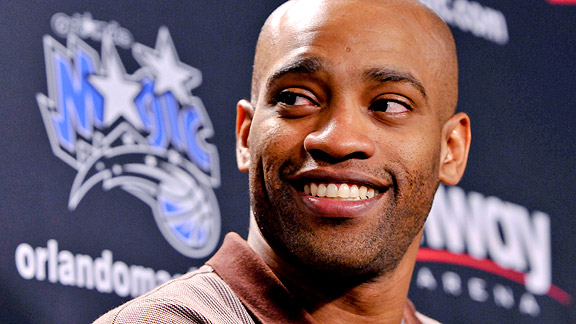 This year, we're doing a division-by-division preview with quick-hitting analysis for every team in the league. If a franchise is a legitimate championship contender, I'll focus on what stars have to line up for a title run. If a team is a playoff "also-ran," I'll identify the weaknesses that have to be shored up via trade, free agency or draft over the next couple of seasons to make it a contender. If a team is likely to miss the playoffs, I'll take a look at the salary cap, and provide a blueprint for how the team should proceed in the near future to get back in the postseason. At the end of each divisional preview, I'll provide some (random) thoughts for the fantasy hoopsters out there.
For each division, I'll pick the order of finish. You'll also see the team's league-wide preseason rank in parenthesis. Be sure to check back on Thursday for a preview of the Central Division and on Saturday for the Atlantic Division.
Orlando Magic (4)

The Magic were busy this summer, but did they get better? Only time will tell. Vince Carter, Brandon Bass and Jason Williams are in, and Hedo Turkoglu, Courtney Lee and Rafer Alston are out. Orlando fended off a strong run from the Mavs for the services of Marcin Gortat, and actually played Mark Cuban and Co. pretty well by stealing the up-and-coming Bass away in the process. It appears that Bass may start at power forward, which would move Rashard Lewis to small forward. Since the mismatches Lewis created at power forward were one of the Magic's strengths last season, this may not be written in stone. Orlando also has the option of starting Mickael Pietrus at small forward and moving Lewis back to PF. But the biggest change to the lineup is the loss of Turkoglu and the acquisition of the 32 year-old Vince Carter, who will likely take over Turkoglu's initiation of the offense. But keep in mind that the Magic made their playoff run without the services of All-Star point guard Jameer Nelson, and his return will be a significant boost to an already strong roster. The Magic didn't just tinker with their Finals roster from last year, they made a pretty major overhaul, so it will be interesting to see how this group gels. Stan Van Gundy is one of the best coaches in the NBA, and the regular season should provide plenty of time for the Magic to work the kinks out. A deep playoff run is likely.
Atlanta Hawks (12)

The Hawks seem to be treading water. They aren't good enough to make a serious push for the Finals and they're too good to get a franchise player in the draft. Joe Johnson has averaged at least 20/4/4 in his four years in Atlanta, but is he a player you build a franchise around? He'll no doubt be looking for a max contract, and the Hawks will have to pony up if they expect to keep him. The bottom line is that Johnson has reached his ceiling; if the Hawks are to make a significant leap forward and become one of the East's elite, they need one (or more) of their youngsters – Josh Smith, Al Horford or Marvin Williams – to enter All-Star territory. Of the three, Smith seems the most likely, but given all the progress the 23 year-old has made in his five-year career, he still seems a good bit away from the All-Star Game. At point guard, the Hawks re-signed Mike Bibby to a semi-affordable contract, and drafted Jeff Teague in the hopes that he can become the franchise PG that the Hawks have been searching for since 2005, when they realized it was a mistake to take Marvin Williams instead of Chris Paul and Deron Williams.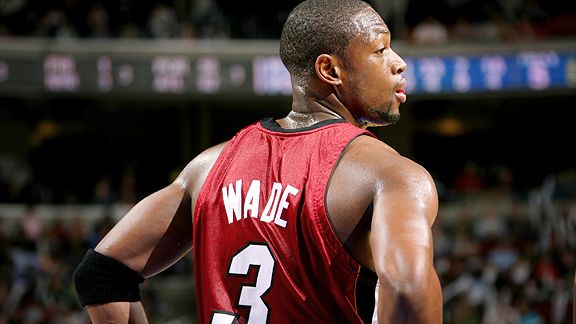 Miami Heat (13)

Miami was active in the offseason, but after a failed bid to convince Lamar Odom to trade Malibu for South Beach, the team enters the season with essentially the same roster it had in the playoffs. And with Dwyane Wade entering free agency after the season, this season largely becomes about convincing him to re-up. Working in the Heat's favor is the tremendous amount of cap space they'll have entering the fateful Summer of 2010. Even with Wade's $17 M salary still on the books, the Heat project to have $20 million to work with, which is plenty of money to add another big-name free agent like Chris Bosh, Amare Stoudemire, Carlos Boozer or…gasp…even LeBron James. Wade is focused on this season, and even with his super-human effort last year – 30.2 ppg, 7.5 apg, 5.0 rpg – the Heat were just a playoff also-ran. Miami needs Michael Beasley to take a step forward and for Jermaine O'Neal to squeeze another season out of his balky knees. But even so, the Heat aren't a real threat to return to the Finals. Unless the Heat pull off a big in-season trade, which is a distinct possibility, this will be a wasted year for Wade and Co. In the end, Wade will probably re-sign, but he's smart to keep his leverage. The Knicks and (Brooklyn) Nets are a threat to steal him away, but it's more likely that Miami convinces Bosh or Stoudemire to sign, and that Wade will choose to stay put.

Washington Wizards (15)

Four years ago, the Wizards were perhaps the fourth or fifth best team in the Eastern Conference, and provided Gilbert Arenas is back to 100% (and Antawn Jamison's preseason shoulder injury isn't serious), there's no reason they can't get back to "also-ran" status this season. The Wizards are still building around the Arenas-Jamison-Caron Butler core, but it's not a no-brainer. This group repeatedly failed to get past the Cavs a few years ago, so what makes the franchise think that they'll have success in an Eastern Conference that now has two more big dogs in the Magic and Celtics? The team is in salary cap hell, with Arenas under contract for another four years (at the tune of $80 million) and Jamison owed more than $28 million through the 2011-12 season. Their best value – Caron Butler – is a free agent in 2011, and the Wizards may not be able to afford to keep him. In short, the franchise is no man's land, and there's no easy way out.
Charlotte Bobcats (29)

The Bobcats made a big move this summer by trading Emeka Okafor for Tyson Chandler. The move saves the team almost $41 million, since Chandler's contract expires in 2011 and Okafor is signed through 2014. The two are fairly similar players (and assuming Chandler is healthy – a big assumption), so the move shouldn't adversely affect the team's competitiveness. The Bobcats have a number of good players – Chandler, Gerald Wallace, Boris Diaw, Ray Felton and D.J. Augustin – but no stars, so while head coach Larry Brown will ensure the effort is there, the Bobcats are going to have a tough time winning games. Looking ahead, the team won't have any serious salary cap flexibility until the summer of 2011, when some ugly contracts (Chandler, Vladimir Radmanovic, Nazr Mohammed) come off the books. It looks like Charlotte is going to be bad for a while.

Fantasy thoughts: Don't expect Vince Carter to post the 21/5/5 line that he has posted the last couple of seasons. The Magic are far more balanced than the Nets were, and although VC will be actively involved in initiating the offense, he isn't going to score 20+ on a nightly basis. An average in the high teens is reasonable, while his assists should hold steady (if not rise) along with a drop in boards (with Dwight Howard manning the middle)…The Hawks didn't make many changes, so expect more of the same from Atlanta's key players. Jeff Teague's playing time will be limited with the presence of Mike Bibby, so don't expect much from the rookie…A focused Michael Beasley has the potential to do some very great things. While there's no guarantee that he's going to keep his head on straight, he is posting 14/6 in 31 minutes in the preseason, and has started every game thus far. His performance last April – 21/9 in 31 minutes over an eight-game span – shows what he can do when he gets enough run…At press time, the Wizards haven't settled on a shooting guard, but whoever gets the job probably won't see too many attempts as there simply aren't a lot of shots to go around in Washington…With a lack of a true star in Charlottte, expect Gerald Wallace to continue to stuff the box score. He's a second round talent but is being drafted in the third or fourth round of fantasy drafts.