Jones says Phillips' job safe for now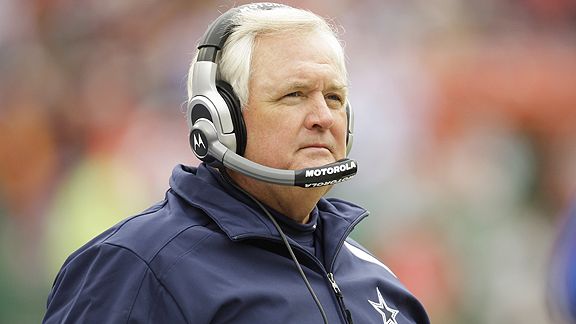 Dallas Cowboys owner Jerry Jones says that head coach Wade Phillips' job is safe for the remainder of the season, according to a report by ESPN.com.
This isn't surprising news. The Cowboys aren't lighting the world on fire, but they do have a winning record and there's no reason to make a dramatic coaching change when it isn't necessary.
That said, Phillips would be naïve to think that his job is safe past 2009. If he doesn't get the Cowboys to the playoffs, there's no way Jones is going to keep him around with Bill Cowher, Mike Shanahan and Jon Gruden waiting on the sidelines ready for another opportunity to be head coaches. In fact, just getting to the playoffs might not be enough for Phillips to hold onto his job.
Despite their winning record, the Cowboys are a mess. Jason Garrett's offense looks like a shell of its former self and Tony Romo has seemingly regressed as a passer. Making matters worse, receiver Roy Williams hasn't stepped up to fill the void that the team created when it released Terrell Owens this offseason and Marion Barber and Felix Jones can't stay healthy.
But it isn't all doom and gloom for Phillips and the Cowboys. The team is on a much-needed bye week and Austin Miles exploded against Kansas City last Sunday. If he can build off that success, he'll take the pressure off Williams, who doesn't seem capable of being a No. 1 receiver in this league. Miles has all the physical talent in the world, but had yet to breakout before last week.
This bye week is crucial for Phillips and the Cowboys. If they don't come out like gangbusters and build some momentum, then chances are they'll continue to fall further behind the Giants and Eagles in the NFC East. Phillips knows that the next 11 weeks are pivotal to keeping his job.