Former Michigan QB rips Lloyd Carr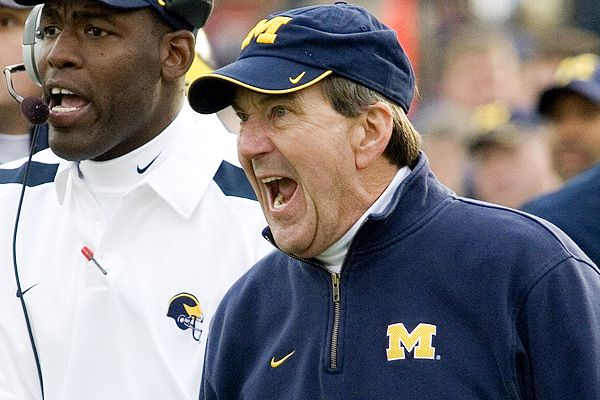 Former Michigan quarterback Rick Leach lambasted ex-Wolverine coach Lloyd Carr recently on an Ann Arbor radio show, claiming that Carr "flipped a huge middle finger right in our current coach's face."
Here are the details, courtesy of the Detroit Free Press:
"I saw an article that said Lloyd Carr was at the game in Iowa," Leach told WTKA-AM (1050). "… No. 1, whose ticket did he go on? Whose private box was he sitting in, and whose university staff was in the box with him?

"As far as I'm concerned, as a former player that loves this program, I love our head coach, I love what they're trying to do — our ex-coach flipped a huge middle finger right in our current coach's face."

Carr couldn't be reached, and Michigan spokesman David Ablauf declined to comment on Leach's comments.
If you read between the lines, Leach must be accusing Carr of getting a ticket to the game thanks to someone at Iowa. Seeing as how he and Iowa head coach Kirk Ferentz are friends, it's a possibility that Carr got the ticket through him.
That said, who gives a flying crap? Considering Bobby Petrino has negotiated multiple times with other programs (and one NFL team) behind his school's back, I don't think Carr attending the Michigan-Iowa game on Ferentz's ticket is that big of a deal. And Petrino is just one example of a coach that has left his team high and dry: Nick Saban, Brian Kelly and Leach's homeboy Rich Rodriguez have all done the same.
I think Leach is being a little too sensitive here. If he wants to preach loyalty, he shouldn't be backing Rodriguez.