2009 NFL Picks & Predictions: Week 6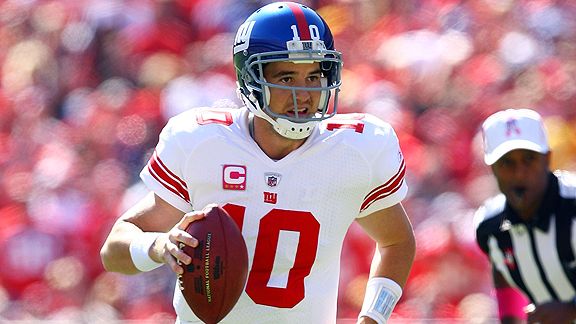 Giants (5-0) at Saints (4-0), 1:00PM ET
Hopefully readers will give me credit for attempt to predict the toughest games this week. No? All right then…This is by far the hardest game to predict on the Week 6 schedule, so let's look at some of the facts. The Saints should be well rested coming off a bye and are playing at home. They have the edge then right? They should, but don't forget that the Giants essentially had a bye themselves since they played Oakland last week and New York always travels well. Drew Brees hasn't seen a pass rush as good as the Giants' all season and I think New York will disrupt his rhythm. And while Darren Sharper and the New Orleans defense is playing out of their minds right now, Eli Manning won't make the same mistakes rookie Mark Sanchez did two weeks ago when the Saints earned a victory against the Jets. I like Brandon Jacobs to get back on track and for the G-Men to pull off a huge win at the Superdome.
Odds: Saints –3.
Prediction: Giants 27, Saints 24.
Ravens (3-2) at Vikings (5-0), 1:00PM ET
So, are the Ravens just in a slump or were they overrated to begin with? Give yourself a gold star if you answered, "A little of both." Baltimore lost several defensive starters and their coordinator Rex Ryan in the offseason – they were due to have a setback at some point. While I think the Ravens are a solid football team, I don't like this matchup for them. They're reeling after two straight losses and play an unfamiliar foe in a hostile environment. I also don't like the matchup between the Ravens' receivers and the Vikings' corners and wonder how Joe Flacco will do once Ray Rice and the running game is shut down by Minnesota's Williams Wall. As long as Brett Favre doesn't get turnover-happy for the first time this year, I like the Vikings to remain undefeated.
Odds: Vikings –3.
Prediction: Vikings 21, Ravens 17.
Bears (3-1) at Falcons (3-1), 8:20PM ET
I know the Giants and Saints offer the best matchup of the week, but this Bears-Falcons game should be thrilling. Both teams can move the ball through the air and both have issues stopping the pass at times. That's what we call the makings of a shootout, folks. Chicago will have to pick its poison this Sunday night. If they choose to load the box and stop Michael Turner, then they could be exposed to Matt Ryan picking them apart through the air. I love the matchup of Tony Gonzalez on a banged up Bears' linebacker corps and inconsistent safety group. But on the flip side, Jay Cutler should have plenty of success throwing against corner Chris Houston and could connect with Devin Hester or Johnny Knox on a couple of big plays. That said, I think Atlanta will jump out to an early lead in front of a rowdy crowd and then hang on in the second half once Cutler and company make a late push. While I could see this game going either way, I like the Falcons at home, especially coming off their performance last week when they absolutely hammered a good 49ers team on the road.
Odds: Falcons –3.
Prediction: Falcons 34, Bears 30.
Broncos at Chargers, Monday, 8:30PM ET
These two teams were supposed to be reversed coming into this game, but instead it has been the Broncos that have taken command in the AFC West. Offensively, the Chargers can score on anyone. But the problem is that they're not balanced right now and that will be a huge issue against a Denver defense that is playing outstanding football at the moment. If San Diego can't run the ball, it will have trouble moving the chains on a consistent basis through the air because Champ Bailey and Brian Dawkins are playing well right now. Defensively, the Bolts don't have a clue and they can't generate any pressure on the quarterback, which is what their defense is predicated on. The Broncos have a solid offensive line and Kyle Orton doesn't make a ton of mistakes. A lot of people think the Chargers will turn their misfortunate around this week, but I think Denver pulls off the small "upset" on Monday night.
Odds: Chargers –3.
Prediction: Broncos 20, Chargers 17.