2009 NBA Preview: Southwest Division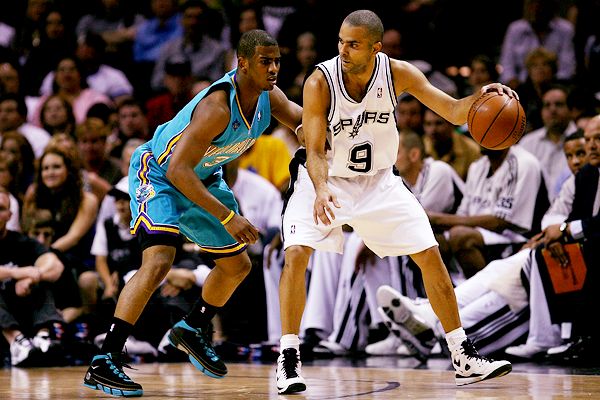 This year, we're doing a division-by-division preview with quick-hitting analysis for every team in the league. If a franchise is a legitimate championship contender, I'll focus on what stars have to line up for a title run. If a team is a playoff "also-ran," I'll identify the weaknesses that have to be shored up via trade, free agency or draft over the next couple of seasons to make it a contender. If a team is likely to miss the playoffs, I'll take a look at the salary cap, and provide a blueprint for how the team should proceed in the near future to get back in the postseason. At the end of each divisional preview, I'll provide some (random) thoughts for the fantasy hoopsters out there.
For each division, I'll pick the order of finish. You'll also see the team's league-wide preseason rank in parenthesis. Be sure to check back over the course of the next couple of weeks for previews of each division.
San Antonio Spurs (3)

Did the Spurs do enough this summer to make another title run? On paper, it sure looks like they did. They added Richard Jefferson to shore up the small forward position, which has declined as Michael Finley and Bruce Bowen have aged. He's a good defender, especially when he's not asked to score 20 points a game, and the Spurs won't put him in that position. The Spurs also signed Antonio McDyess, who is 35 years old, but was quite productive last season as he proved that he still has some gas left in the tank. San Antonio also had the luxury of a top 10 talent (DeJuan Blair) falling into its lap in the second round of the draft due to concerns about his knees, which served him quite well at Pitt. And, of course, the Spurs return their three principals. Tony Parker has developed into one of the best point guards in the game, Manu Ginobili is a clutch closer, and Tim Duncan is still Tim Duncan. Since his game isn't dependent on athleticism, it continues to age well. The key for the Spurs is staying healthy. If Parker, Ginobili, Duncan and Jefferson are all healthy heading into the playoffs, San Antonio will be a very tough out, even for the Lakers.
Dallas Mavericks (7)

Despite the general consensus that the Mavs mortgaged their future when they traded away Devin Harris for an over-the-hill Jason Kidd, Dallas is still defending that move and thinks that they can win a championship now. Kidd is still a productive player, but he has trouble covering quick point guards on the defensive end, and when he's asked to cover guys like Tony Parker, Chris Paul or even Deron Williams, things can get ugly. The Mavs tried to upgrade at center by adding Marcin Gortat, but was sideswiped by the Magic at the last minute. Orlando also managed to poach Brandon Bass, an up-and-coming power forward. However, the Mavs did manage to acquire Shawn Marion who, at just 31 years of age, still has quite a bit of basketball left to play. He wasn't used in the right way in Miami, but played well down the stretch (16/9 in April) for the Raptors last year as they made a late-season run. Along with a still-in-his-prime Dirk Nowitzki, the ever-entertaining Josh Howard, and the instant offense of Jason Terry, the Mavs have a formidable core of players. Even with all this talent, it's going to take a minor meltdown by the Lakers and the Spurs to give Dallas a legitimate shot at making another run to the Finals. However, if the Mavs gel quickly, they will be a factor in the West.
New Orleans Hornets (9)

It's hard to figure out just what the Hornets are thinking. Last season, they tried to give Tyson Chandler to the Thunder in a salary dump, but OKC sent him back after their doctors said his foot was no good. Then this offseason they trade him for Emeka Okafor, who has four years and $52 million remaining on his contract. Were they trying to move Chandler because of his foot? Given the investment they made in Okafor, it would appear so. The Hornets looked to be on the cusp of a title run heading into last season, but the team regressed instead of progressing, and much of this can be blamed on poor play at the wing positions. Peja Stojakovic just isn't what he used to be, and he's only worth a fraction of the $28 million he's due to make over the next two seasons. Morris Peterson also isn't aging very well, prompting the team to sign James Posey two summers ago. He wasn't the answer, so now Byron Scott is turning to Julian Wright (something he probably should have done last summer) at small forward, while Peterson seems to be holding off rookie Marcus Thornton for now. We know Chris Paul and David West are going to give the Hornets All-Star caliber play, so Wright can raise his game and a healthy Okafor can provide a steady double-double and defensive presence inside, the Hornets might find themselves in the thick of things in the West.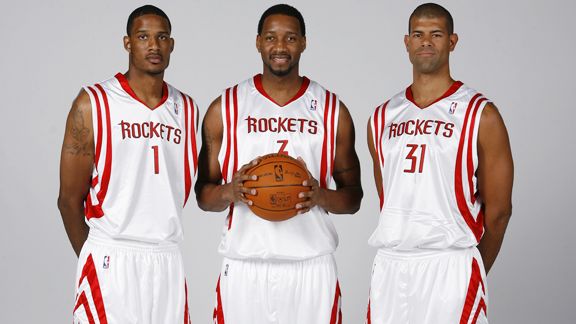 Houston Rockets (14)

Houston got rid of its most memorable player from last season – Ron Artest – because he was just too nutty. When the Lakers signed Ron-Ron away, GM Darryl Morey was happy to step in and sign the up-and-coming Trevor Ariza to a mid-level deal. Unfortunately, Yao Ming has another foot injury and is going to miss the entire season, so unless Tracy McGrady can come back completely healthy – and it's a contract year, so I wouldn't put it past him – the Rockets are going to have a tough time equaling last year's success. T-Mac hasn't yet played in the preseason, so there's no telling what kind of season he's going to be able to produce. Without their two stars, the Rockets have a lot of good players – Ariza, Shane Battier, Aaron Brooks, Luis Scola, Carl Landry, Kyle Lowry, Chuck Hayes – but no great ones, so it's going to be difficult make a deep playoff run if T-Mac isn't near 100%. Still, they play good defense and have great chemistry, so the Rockets will compete on a nightly basis during the regular season.
Memphis Grizzlies (29)

Ah, the Grizzlies. Just when you think that GM Chris Wallace is starting to redeem himself for the Pau Gasol fiasco by acquiring O.J. Mayo on draft day, he goes and trades for Zach Randolph and the $33 million remaining on his contract. Randolph isn't a bad fantasy player, but I don't know that any GM in the league would use him as part of a plan to get back to the playoffs. What's worse, this move will make it impossible for the franchise to be much of a player in 2010's free agency bonanza. The Allen Iverson deal is understandable. The Grizzlies need to put butts in the seats and AI can do that. Only it's tough to rebuild with a couple of veterans who have a reputation for poisoning the locker room. Rookie Hasheem Thabeet will vie for minutes in a front line that includes Marc Gasol, Darrell Arthur, Sam Young and DeMarre Carroll. Don't expect anything from the Grizzlies this season. They are a good bet to once again finish at the bottom of the division.
Fantasy Thoughts: Shawn Marion isn't going to be the stat beast he was in Phoenix, but he showed flashes of his old self late in his stint with the Raptors, so he's a nice value pick in the middle rounds…The Spurs look like they'll be very balanced with the addition of Richard Jefferson and Antonio McDyess that the stars will probably be a little overvalued (though I love Tony Parker in the 4th) while guys like Jefferson, McDyess and Roger Mason, Jr., might be a little undervalued…Julian Wright isn't shooting the ball all that well in the preseason, but he's averaging 7.8 points and 5.8 rebounds in 25 minutes. If he can get his FG% up around where it was in his rookie year (53%), while playing at a level deserving of starters' minutes, then he could be a nice sleeper in the late rounds…Look for Shane Battier to be more aggressive offensively with Yao out for the season and T-Mac trying to make his way back from injury. He's not going to set the world on fire, but given his production in the other areas of the game – steals, assists, rebounds, blocks – he could be a valuable pick in the later rounds…Luis Scola should be one of the Rockets' go-to players as well, and is a great value in the 7th…Zach Randolph isn't a bad pick in the 6th round. He's not going to get you much in the way of steals, assists or blocks, but he'll hit the occasional three and rack up the points and rebounds.
Posted in: Fantasy Basketball, NBA
Tags: 2009 fantasy basketball, 2009 NBA preview, 2009 Southwest Division Preview, Dallas Mavericks, Dallas Mavericks preview, Fantasy Basketball, Houston Rockets, Memphis Grizzlies, Memphis Grizzlies preview, NBA preview, New Orleans Hornets, San Antonio Spurs, San Antonio Spurs preview