Raiders' Russell continues to regress in development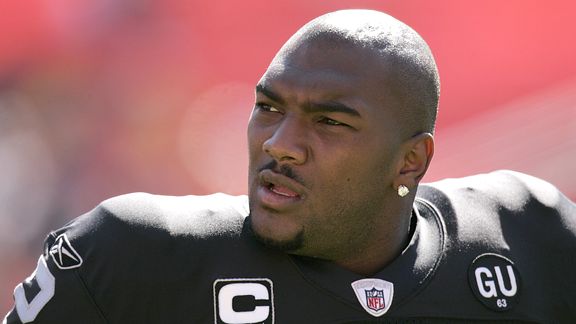 It may be a tad premature to write this given that he's only in his third year, but it's getting harder and harder not to tab JaMarcus Russell as one of the worst No. 1 overall picks in NFL history.
Al Davis was blinded by Russell's arm strength three years ago. Russell might be able to throw the ball the length of the field, but his pocket presence his atrocious and his work ethic is abysmal. When he drops back to pass, it's clear he doesn't know where to go with the ball and how to read a defense.
In the Raiders' 44-7 loss to the Giants on Sunday, Russell completed just 8 of his 13 pass attempts for 100 yards, was sacked six times and lost three fumbles. He simply cannot function in an NFL offense and relies too much on his natural ability to get by. If he doesn't start putting in the work and learning how to read defenses, he's never going to succeed and he'll be out of the league in a couple of years.
Russell is a prime example of why it's so important for teams to evaluate the intelligence of players. That will never happen with Davis because he'll always put talent above all else, but draft evaluators are dreaming if they think they can teach work ethic and football smarts. Russell can make all the throws, but he doesn't have the awareness to get the ball out on time or to deliver it to the right spot. One would think that he would compensate for that by working harder, but he doesn't.
If Russell doesn't show vast improvement this season, the Raiders can't wait to start developing another quarterback. He's regressed every year he's been in the league and he's not going to start succeeding overnight. I realize the Giants have a great defense and make a lot of quarterbacks look bad on Sundays, but Russell can't even accomplish basic functions. It doesn't matter if he's playing the Giants or Rams, if he doesn't understand the basics the Raiders will continue to spiral into football purgatory.