Falcons expose Shaun Hill, 49ers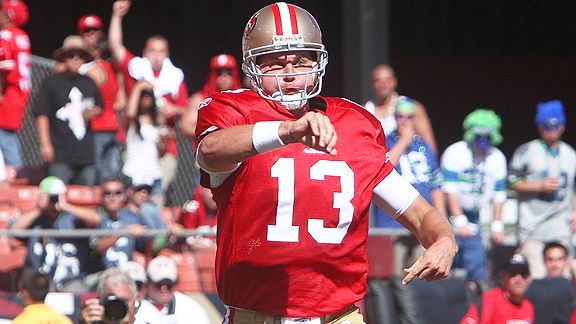 Up until their 45-10 loss to the Falcons in Week 5, Shaun Hill and the 49ers felt pretty good about how they started their 2009 season. Hill wasn't setting the stat book on fire, but he kept the chains moving by making smart decisions and taking care of the football.
But on Sunday, Atlanta jumped out to a sizable first half lead and forced Hill to beat them through the air. What proceeded was a nasty performance highlighted by off-the-mark throws and inconsistency. He didn't get much help from the running game, but he never got into a rhythm passing and his limitations as a quarterback were on full display. He struggled mightily with the intermediate and deep passes today.
That said, the Niners won't be making a switch any time soon. It's not like Mike Singletary didn't know that Hill wasn't Peyton Manning in preseason and Hill still beat out Alex Smith for the starting job. The bottom line is that San Fran will struggle this season when it can't run the ball and the defense doesn't step up.
Speaking of the Niners' defense, Matt Ryan and Roddy White absolutely took them to school today. Ryan threw for 329 yards and two touchdowns on 22 of 32 passing, while White had his best outing of the year with eight receptions for 210 yards and two touchdowns. White, who had gotten off to a slow start this season, found holes in San Francisco's defense and as he often is, Ryan was accurate with his throws.
This was the type of performance that Atlanta had been waiting for on both sides of the ball. They played well in a win over Miami in Week 1, but this was the first time the Falcons really took it to an opponent. Ryan was potent, White was unstoppable, Michael Turner looked like the '08 version of himself and the defense finally generated a consistent pass rush. The run defense was solid for the first time all year.
Granted, the 49ers didn't help themselves by turning the ball over at costly times. Down 35-10 and searching for anything to help turn the momentum, Dre' Bly intercepted Ryan and looked like he might take it the other way for a pick six. But White never gave up on the ball and stripped Bly, who was carrying the ball like a loaf of bread. The Falcons recovered the ball, marched back into scoring range and kicked a field goal to go up 38-10 midway through the third quarter.
This was the first time all season Singletary's team looked sloppy and the Falcons shredded them. But maybe San Fran will learn from this, reset its expectations and use this outing to stay grounded throughout the rest of the year.