Iverson could miss three weeks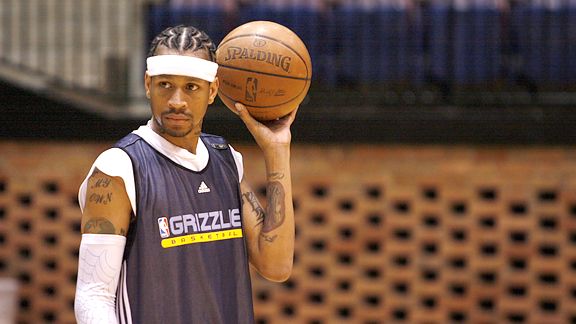 Per the Memphis Commercial-Appeal…
Allen Iverson will miss three weeks with a partial tear in his left hamstring, the Grizzlies announced before Wednesday's preseason game against the Oklahoma City Thunder. That means Iverson will be sidelined for the rest of the preseason — and his availability for the team's regular-season opener against the Detroit Pistons on Oct. 28 is in jeopardy.

Iverson suffered the injury coming to a jump stop during the team's open intrasquad scrimmage at Birmingham Southern College on Sunday. He said the entire back of his leg turned "black and purple," and he underwent an MRI on Wednesday morning that revealed the damage.
Ouch, that doesn't sound good. The AI era in Memphis is off to an inauspicious start.