Twins beat Tigers, will play Yankees in ALDS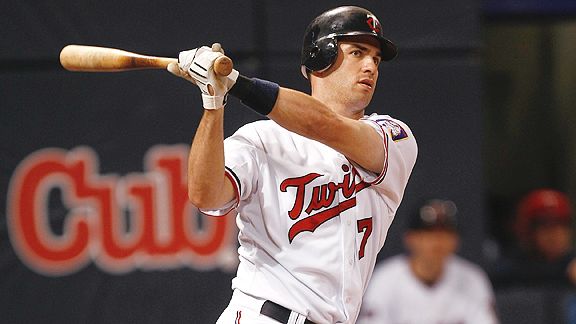 Thanks to Alexi Casilla's walk-off RBI single in the 12 inning on Tuesday night, the Twins won the AL Central by beating the Tigers 6-5 in a one-game playoff. Minnesota will now take on the Yankees tomorrow night in Game 1 of the ALDS.
It would be one to remember. The Twins overcame a 3-0 deficit, thanks to Orlando Cabrera's two-run homer in the seventh that gave them a 4-3 lead, only to have the contest tied at 4 in the eighth inning on a Magglio Ordonez leadoff homer.

Still knotted at 4 heading into the ninth, the Tigers appeared like they would take a lead after putting runners on first and third with no outs against Joe Nathan. But Nathan froze Placido Polanco on a called third strike and then got Ordonez to line into an inning-ending double play, as Cabrera made the throw to first base to catch Curtis Granderson off the bag.

Nick Punto drew a 10-pitch walk to lead off the ninth and advanced to second on a sacrifice bunt. Cabrera grounded out, thanks to a diving stop by third baseman Brandon Inge. Rodney then intentionally walked Joe Mauer to get to Gomez, who entered the game in the eighth as a defensive replacement for Jason Kubel, and Gomez grounded out.

The clubs exchanged runs in the 10th inning. Jesse Crain struck Aubrey Huff with a pitch, and Inge hit an RBI double to put Detroit up a run, 5-4. But Michael Cuddyer tripled to lead off the bottom of the frame and scored on Matt Tolbert's single up the middle to knot the contest again. The Twins had the winning run on third with one out, but Punto flied out to left field and Casilla was thrown out at home as he tried to slide around catcher Gerald Laird's tag.
What a wild finish to the season. I know the Twins bring a lot to the table with their offense led by Joe Mauer, but the Yankees must be somewhat breathing a sigh of relief for not having to face Justin Verlander, Edwin Jackson and Rick Porcello in a best of seven.
It'll be interesting to see if the Yankees overlook yet another opponent in the first round of the postseason like they've done in previous years. As previously noted, the Twins have one of the better offenses in the American League and CC Sabathia hasn't necessarily been lights out in the playoffs over his career.
Let the games begin.