College Football Week 6 Odds & Point Spreads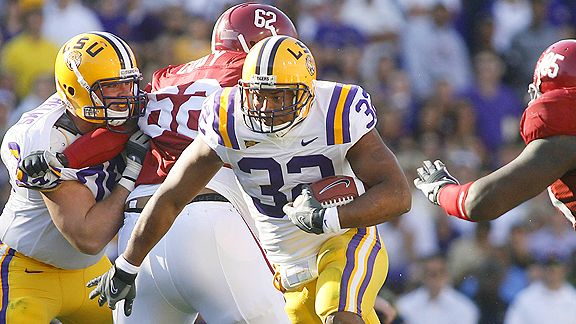 Odds makers have released the point spreads for Week 6 in college football. Below are a list of odds for the top 25 and quick-hit previews for every game.
Thursday, October 8
No. 21 Nebraska -3
No. 24 Missouri +3
Both of these teams can light up a scoreboard, but the Huskers have the defensive advantage of the Tigers. Nebraska has the 16th best pass defense in that nation, while MIZZOU has struggled to stop the run this season, allowing opponents to rush for over 130 yards per game.
Saturday, October 10
No. 1 Florida -8
No. 4 LSU +8
The marquee matchup in this week will take place in Baton Rouge, where the Tigers host a banged up Gators team that could be without starting quarterback Tim Tebow (concussion). If Tebow can't play, Florida will rely on the best defense in the nation to shut down Charles Scott and the LSU offense that has been inconsistent in the first five weeks of the season.
Colorado +32
No. 2 Texas -32
Colt McCoy and company will be fresh coming off a bye and should have any problem scoring against a defense that is allowing 28 points a game.
No. 3 Alabama -6.5
No. 20 Ole Miss +6.5
This matchup lost some luster a couple weeks ago when the Rebels fell in South Carolina, but this will nevertheless be a great test for the Tide's second best defense. Alabama might be the most complete team in the nation, although Jevan Snead and company are tough to beat at home.
Boston College +13.5
No. 5 Virginia Tech -13.5
Despite all of their injuries, the Eagles have surprised early by compiling a 4-1 record. They upset Wake Forest and Florida State the past two weeks, although Tyrod Taylor and VA Tech pose a unique challenge. It's never easy to win in Blacksburg, but it's going to be even tougher this time around for BC as Taylor continues to mature as a passer.
Wisconsin +14
No. 9 Ohio State -14
The Buckeyes have bounced back nicely since their loss to USC and are currently ninth in the nation in total defense. The Badgers have yet to lose and their offense has been potent thanks to running back John Clay, who has been extremely tough to bring down. This is one of the more underrated matchups on the schedule and could decide the winner of the Big Ten.
No. 10 TCU -10
Air Force +10
The Horned Frogs' aggressive defense continues to give opponents fits, although they'll get a unique challenge this week against a Falcons team that averages almost 300 yards a game.
Florida A&M N/A
No. 11 Miami N/A
After facing four ranked opponents to start the season, the Canes finally get a break with an easy non-conference foe. That said, this is no time for Jacory Harris and company to take their foot off the pedal with ACC foes Clemson and Wake Forest coming up in a couple of weeks.
Michigan +8
No. 12 Iowa -8
The Hawkeyes have rebounded from their near-embarrassing loss to Northern Iowa at the start of the season and have now built up some moment. While Michigan continues to struggle defensively, Tate Forcier brings another element to the field with his mobility in and out of the pocket. He could have a tough time throwing against the fourth best pass defense in the nation, however.
No. 13 Oregon -6
UCLA +6
Since losing to Boise State in their opener, Oregon has been an unstoppable force, racking up nearly 35 points a game thanks to junior quarterback Jeremiah Masoli's threat as a runner and a passer. That said, the Bruins have an outstanding secondary and will force the Ducks to beat them with their rushing attack. The team that controls the game on the ground will likely emerge as the winner.
Eastern Illinois N/A
No. 14 Penn State N/A
With non-conference games against Akron, Syracuse, Temple and now Eastern Illinois, it's clear that Penn State doesn't want to exert itself too much in the early going.
No. 15 Oklahoma State N/A
Texas A&M N/A
The Cowboys have been flying under the radar since their Week 2 loss to Houston, although wins over Rice and Grambling State won't turn many heads. They'll face an Aggie team that was absolutely shredded by Arkansas last week, but one that posses a threat with their offense. It'll be interesting to see if Jerrod Johnson and A&M can pull off an upset a week after being embarrassed by the Razorbacks.
Iowa State +20
No. 16 Kansas -20
Kansas is another team that has flown under the radar the past couple weeks, although they'll hardly get a challenge this Saturday. Todd Reesing and company should roll over a Cyclone defense that is allowing over 150 rushing yards per game.
No. 17 Auburn -3
Arkansas +3
The undefeated Tigers finally broke the top 25 with a win over Tennessee last week. Their defense will face a huge challenge this week against a Razorback team that ranks seventh in the nation in passing offense and is coming off a 47-19 beat down of Texas A&M. Can Auburn slow down Ryan Mallett and his trio of receivers?
No. 18 BYU -16.5
UNLV +16.5
The Cougars may be 4-1, but they have issues. Quarterback Max Hall has not played well thus far this season and must cut down on the turnovers. Thanks to running back Harvey Unga, BYU won't get much of a challenge from UNLV this week, but Hall must step up his game before TCU comes to town in two weeks.
Baylor +25
No. 19 Oklahoma -25
After suffering their second loss of the season, the Sooners won't make a repeat appearance in the national title game. Sam Bradford might play this week, although there's a good chance that Bob Stoops will hold him out against Baylor with a trip to Texas coming up next week. The loss season for Oklahoma continues…
No. 22 Georgia Tech +2.5
Florida State -2.5
The Yellow Jackets are averaging over 250 yards per game on the ground this year and would roll over a Seminole defense that is allowing nearly 130 rushing yards per game.
Kentucky +10.5
No. 25 South Carolina -10.5
South Carolina's defense will prove to be a stiff challenge for Derrick Locke and the Wildcat offense, although the Gamecocks can't overlook KU with a trip to Alabama coming up next week.