How many sacks for Jared Allen tonight?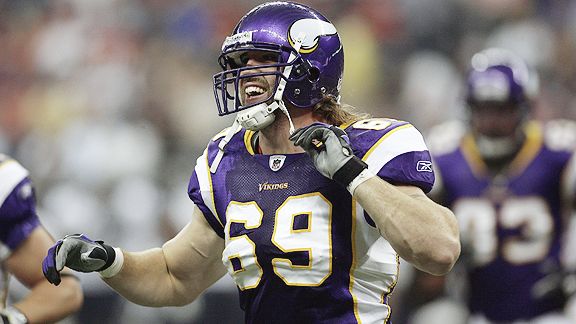 I'm setting the over/under on the number of sacks Vikings' defensive end Jared Allen will have on Aaron Rodgers tonight at 2.5.
Any takers?
Allen is due for a monster night as Green Bay left tackle Chad Clifton is expected to miss his second game tonight following an ankle injury he suffered in a Week 2 loss to the Bengals.
The Packers' offensive line has resembled a revolving door this season, allowing 12 sacks in the first three games. In their loss to Cincinnati, Green Bay made defensive end Antwan Odom look like a cross between Reggie White and Kevin Greene as he brought down Rodgers five times.
Rodgers is a fine quarterback, but his offensive line is going to get him killed if they don't start protecting him. Considering Ryan Grant won't find much running room against the Williams Wall tonight, it would be in Green Bay's best interest to max-protect Rodgers the entire night. The Giants use a similar method on a weekly basis with Eli Manning and he seems to do just fine.
The Packers need to help Daryn Colledge out, because he'll see the brunt of the work against Allen. Lining up a tight end to Allen's side would make sense, although Green Bay might also need to set up a military-based obstacle course in between him and Rodgers just to be safe.
I'm taking the over tonight. I think Allen will eventually take this game over, especially if the Packers can't get Grant going early. It could be a very long night for Rodgers.
Posted in: NFL
Tags: Brett Favre, Brett Favre Packers, brett favre vs packers, Green Bay Packers, Jared Allen, Jared Allen vs Packers, Minnesota Vikings, Monday Night Football, Monday Night Football preview, Packers, Packers Vikings, Packers Vikings preview, Packers vs. Vikings, Percy Harvin, Vikings