Are the Colts the team to beat in the AFC?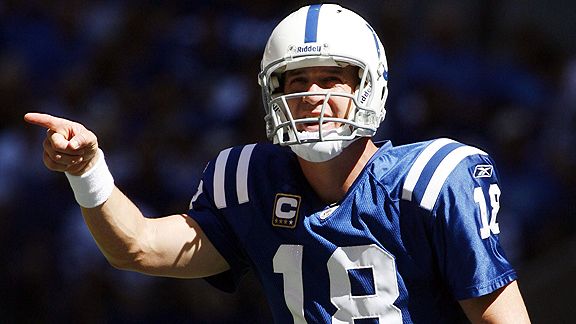 Quick, name the best team in the AFC.
The Patriots? Too many flaws, especially on defense.
The Ravens? Maybe now that they have an offense to match their defense, but their loss in New England on Sunday raised more concerns about their receiving corps.
The Jets? As of this writing, the Saints are making Mark Sanchez look an awfully lot like a rookie starting in his first season. But if they come back and earn a win in New Orleans, then Rex Ryan's team certainly makes a case that they're the best in the conference.
The answer to the proposed question, my friends, may very well be the Indianapolis Colts. I understand that this might not be a fair time to ask a question like this given that they had a free win against the banged up Seahawks on Sunday, but that doesn't take away from the fact that Peyton Manning and his offense looks unstoppable, or that Indy's defense is faster and more aggressive under new coordinator Larry Coyer.
One could certainly make the argument that the Colts haven't faced anyone this season with wins over the Jaguars, Dolphins, Cardinals and Seahawks. But in each of their wins, Manning has thrown for over 300 yards and has run Tom Moore's version of the no-huddle offense to near perfection.
There is some concern that the defense will wear down because of the offense's quick-hit approach, and the running game has almost been non-existent. But as long as the Colts stay close, Manning is going to give them an opportunity to win in the fourth quarter.
The schedule is incredibly favorable for Indianapolis over the next couple weeks. They're at Tennessee next week, have a bye in Week 6 and then play the Rams in Week 7. Their first true challenge of the year might not come until Week 8 when they host the ever-improving 49ers.
Things are set up for the Colts to streak to the playoffs again this year. And with an improved defense, the sky appears to be the limit for this team.