Why is nobody talking about Alabama?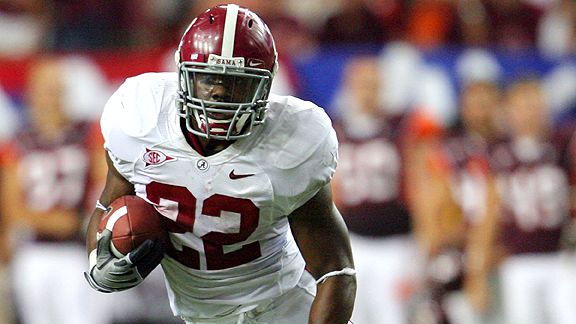 Alabama might be ranked third in the nation, but so far this season the Tide have taken a backseat to Florida, Texas, USC, Sam Bradford's shoulder, Miami and Michigan being relevant again, Lane Kiffin's big mouth, Urban Meyer's constant stream of tears (sorry Gator fans, but dude's a crybaby), a Subway being built on Texas's campus and what brand computer Tim Tebow types on when he sends e-mails.
Meanwhile, 'Bama just keeps plugging along. They crushed Kentucky 38-20 in Lexington on Saturday and it wasn't even that close outside of the Wildcats keeping it tight in the first quarter. Mark Ingram rushed for 140 yards with two touchdowns on 22 carries, while the Tide defense forced four turnovers.
Alabama deserves more attention. They have the second best defense in the nation and the eighth best offense. They also have an excellent rushing game led by Ingram, as well as an efficient passing game thanks to quarterback Greg McElroy, who has eight touchdown passes and zero interceptions in his last four games.
'Bama has some big games coming up. They play at Ole Miss next week before hosting South Carolina, Tennessee and LSU. They hit the road again to face an improving Mississippi State team after playing the Tigers and after a gimmie against Chattanooga in late November, they play at Auburn to finish the year.
They certainly have their work cut out for them playing in a tough SEC, but people are sleeping on the Tide right now because many pundits figured they would take a step back after their great run last year. But anyone who thinks that Nick Saban's team can't hang with Florida, think again.