Lab used Ted Williams' head for batting practice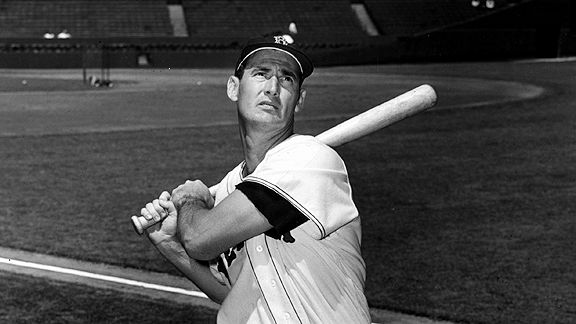 The New York Daily News is reporting that workers at an Arizona cryonics facility mutilated the frozen head of baseball legend Ted Williams by dismantling it from his body and then using it for batting practice.
Here are some of the bizarre details:
In "Frozen," Larry Johnson, a former exec at the Alcor Life Extension Foundation in Scottsdale, Ariz., graphically describes how The Splendid Splinter" was beheaded, his head frozen and repeatedly abused.

The book, out Tuesday from Vanguard Press, tells how Williams' corpse became "Alcorian A-1949" at the facility, where bodies are kept suspended in liquid nitrogen in case future generations learn how to revive them.

Johnson writes that in July 2002, shortly after the Red Sox slugger died at age 83, technicians with no medical certification gleefully photographed and used crude equipment to decapitate the majors' last .400 hitter.

Williams' severed head was then frozen, and even used for batting practice by a technician trying to dislodge it from a tuna fish can.
The chief operating officer of Alcor for eight months before becoming a whistleblower in 2003, Johnson wrote his book while in hiding, fearful for his life.

Johnson writes that holes were drilled in Williams' severed head for the insertion of microphones, then frozen in liquid nitrogen while Alcor employees recorded the sounds of Williams' brain cracking 16 times as temperatures dropped to -321 degrees Fahrenheit.

Johnson writes that the head was balanced on an empty can of Bumble Bee tuna to keep it from sticking to the bottom of its case.
Johnson describes watching as another Alcor employee removed Williams' head from the freezer with a stick, and tried to dislodge the tuna can by swinging at it with a monkey wrench.

The technician, no .406 hitter like the baseball legend, missed the can with several swings of the wrench and smacked Williams' head directly, spraying "tiny pieces of frozen head" around the room.

Johnson accuses the company of joking morbidly about mailing Williams' thawing remains back to his family if his son didn't pay his outstanding debt to the company.
I don't even know where to begin with this. How can somebody be so sick, twisted and inhumane? Forget for a second that this was one of the greatest baseball players of all time – the actions of these people are just downright sick and creepy.
This is something straight out of a freaking Quentin Tarantino movie.