2009 NHL Preview: Philadelphia Flyers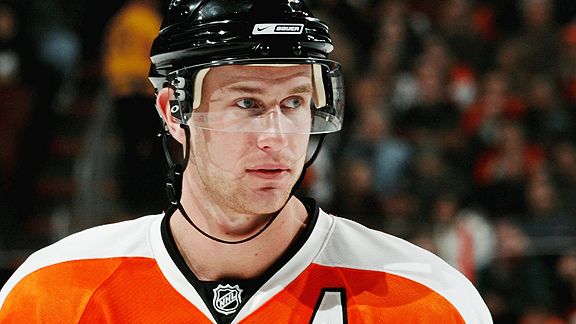 We've partnered with On Goal Analysis to bring you a team-by-team preview of the upcoming NHL season. (Just scroll down on the OGA website and hit the calendar.) Here is the preview for the Philadelphia Flyers…
SUMMER SPLASH
* Salary cap issues in Philadelphia put management in the mode of tackling the business end of an appropriate budget while under the belief this team is built to win NOW. A pivotal player from last season, Mike Knuble, went to Washington as a result of operating procedures.
* The biggest news from the summer was the deal Philly made to acquire Chris Pronger from the Ducks. The cost was hefty, though as the Flyers dealt Joffrey Lupul and future defenseman, Luca Sbisa. They also had to give up their first round pick for the 2009 draft but feel Pronger may be the missing piece on the blue line to help take the team progress deeper into the playoffs (and past PA-rival Pittsburgh). But perhaps the Flyers felt plenty-stocked on current, producing first round picks to make the move. See below in the Frozen Pill's Fantasy Dose for examples on why Philadelphia believes the current team is the one to win with.
* Another key addition over the summer was the signing of Colorado's Ian Laperriere. The Bully-quotient just went up on Broad St. How this will affect one major area of on-ice concern from last season (the undisciplined play and time spent in the penalty box) remains to be seen. One would think, adversely. And so far, in the pre-season, the nasties have it.
* Goalie Swap! OUT are Marty Biron (NYI) and Antero Niittymaki (TBL). IN are (he's back…), Ray Emery (NHL_exile) and Brian Boucher (SJS). The choices here are the results of a money-conscience team willing to take some chances…hoping the awesomeness assembled in front of the crease infects the play in the blue paint, too. More on this next in the Fantasy Dose, below.
Click here to read the rest of the preview (which includes the site's unique Playoff Qualifying Curve and fantasy information) at the On Goal Analysis site.