Questioning Favre's motives to come back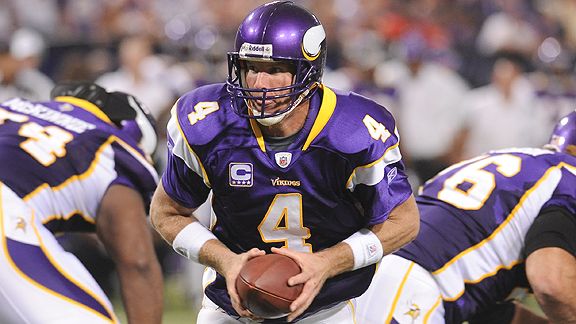 Brett Favre should know better than anyone that whatever an athlete says will be examined, analyzed and often criticized by the media.
And since he should know that, it's a little strange that he's now claiming that he isn't out for revenge against the Packers despite previously stating that he wanted to stick it to Green Bay GM Ted Thompson, who traded him to the Jets last year.
This is what Brett said in a conference call with the media on Thursday (via ESPN):
"Never was motivated for that reason," Favre said in a conference call. "No. That has nothing to do with it."
Uh Brett, then what would you call your open desire to stick to Thompson then?
"It's human nature to feel, I didn't use the word revenge, but to prove that you still could play," Favre said. "To prove someone wrong, or prove a group wrong. So you can call it what you want."
While I'm not ready to paint Brett with the liar brush, I do question his true motives to come back and play – specifically for the Vikings. He had to know that donning purple and gold would alienate many of the fans that rooted him for all those years in Green Bay, so why Minnesota?
Chances are that Brett was telling the truth from the start. He's still angry with Thompson for not bowing down and allowing him to return to Green Bay, no matter how many times he retired and unretired. Why else would he sign with the Packers' most hated rival?
I'm not oblivious to the fact that Minnesota was a perfect fit for Brett. He already knew Brad Childress' offense and was familiar with the division. Plus, the Jets were transitioning to a new coach and none of Favre's former teammates were championing for his return.
But I still find it hard to believe that Brett's main motivation wasn't to beat Thompson and the Packers. The easiest way to burn the Pack was to sign with a rival, and then beat them on the field. He already accomplished the first feat, and a win on Monday night would allow him to cross off the other.
Don't let Favre fool you – he isn't above trying to make Thompson and the Packers look foolish for not allowing him to return after the 2007 season. The hatchet is certainly not buried.