2009 NHL Preview: Montreal Canadiens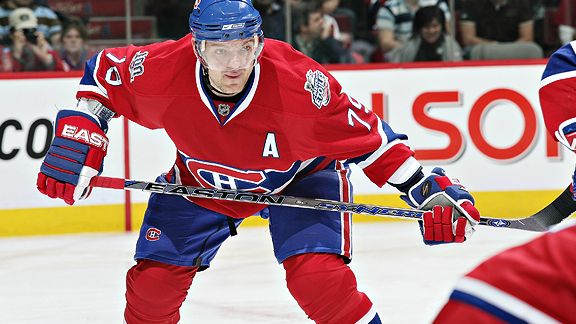 We've partnered with On Goal Analysis to bring you a team-by-team preview of the upcoming NHL season. (Just scroll down on the OGA website and hit the calendar.) Here is the preview for the Montreal Canadiens…
SUMMER SPLASH
* Big moves over the summer in Montreal as Bob Gainey went against some of the conventional wisdom and provided the club with the shakeup it needed…and may have found the future is now in Montreal.
* Some big names are gone from the roster, too as the Canadiens enter camp. Favorite Captain Koivu (of the Sako variety) was not re-signed and Alex Kovalev was also welcome to explore other pastures. Two big names in Montreal that are now playing elsewhere left some fans wondering about the overall strategy. They then saw defenseman Mike Komisarek go to Toronto and Chris Higgins traded to the Rangers. Bruiser Tom Kostopoulos left for the Hurricanes.
* To remake the team, defense was bolstered as a priority by adding size and puck-moving, proven players in: Hal Gill (PIT), Jaroslav Spacek (BUF) and Paul Mara (NYR)
* Offense was given a kick in the pants with speedy additions of: Scott Gomez (NYR), Mike Cammalleri (CGY) and Brian Gionta (NJD) and the gritty Travis Moen (SJS)
Click here to read the rest of the preview (which includes the site's unique Playoff Qualifying Curve and fantasy information) at the On Goal Analysis site.