2009 NFL Week 4 Odds & Point Spreads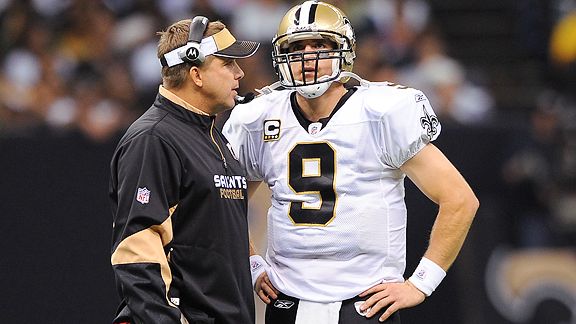 Along with the odds and over/under totals, here's a look at some of the marquee matchups for Week 4 in the NFL.
Jets (3-0) at Saints (3-0), 4:05PM ET
Perhaps the most anticipated match up on this week's schedule (outside of the Monday night game, that is) will be played at the Superdome when the 3-0 Saints host the 3-0 Jets. Both teams are playing with tons of confidence on both sides of the ball and this game will be a great test for each team. How will Drew Brees and the explosive New Orleans offense handle Rex Ryan's aggressive defense? Can Mark Sanchez and the Jets offense keep pace with Brees and company if they start lighting on the scoreboard? This should be a great game from start to finish.
Odds: Saints –7.
Ravens (3-0) at Patriots (2-1), 1:00PM ET
Although the Patriots soundly beat the Falcons last week, they still have some issues to resolve. Tom Brady didn't play particularly well (especially in the first half), but he also didn't face much of a pass rush. Baltimore won't make the same mistake Atlanta did and allow Brady to sit back in the pocket and pick them apart underneath. The Ravens also have a better run defense than the Falcons do, so the Pats shouldn't be able to control this game on the ground like they were able to do last week. Baltimore has its issues as well, particularly in the secondary. If Brady is on, he could have some success moving the ball against the Ravens' pass defense. It'll be interesting to see how New England's defense handles Joe Flacco and a running game that already looks like it's in midseason form.
Odds: Patriots –2.
Chargers (2-1) at Steelers (1-2), 8:20PM ET
Is this a must win for the defending champs? The lack of a running game is killing the Steelers right now because they can't nurse leads late in games. If Willie Parker and Rashard Mendenhall can't get going against a beat up San Diego front seven, then the onus will once again be on Ben Roethlisberger and the defense to win the game for Pittsburgh. The Chargers know what it's like to play in Pittsburgh since they made the trip twice last year, which resulted in a 11-10 regular season defeat and a 35-24 loss in the Divisional Round of the playoffs. Consistency has been an issue for Philip Rivers and company, but the Steelers are primed for the taking. Will Pittsburgh fall to 1-3 or can it right the ship this Sunday night?
Odds: Steelers -6.
Packers (2-1) at Vikings (3-0), Monday, 8:30PM ET
Did the schedule makers nail this one or what? Brett Favre will host his former team a week after producing some of the late game heroics that made him an icon in Green Bay. The football world is abuzz with Favre's game-winning touchdown pass to Greg Lewis last Sunday, which helped the Vikings edge the 49ers and remain undefeated. The Green Bay offensive line must do a better job protecting Aaron Rodgers, especially with Jared Allen ready to provide consistent pressure for a great Minnesota defensive line. Rodgers will have to make plenty of plays in the passing game, since Ryan Grant isn't likely to find much running room against the Williams Wall. Can Rodgers outshine his predecessor or will Favre teach the young quarterback a thing or two about playing in primetime?
Odds: Vikings –3.5.
NFL Week 4 Point Spreads and Over/Under Totals:
Oakland Raiders +9 Over 42
Houston Texans –9 Under 42
Titans –3 Over 41.5
Jaguars +3 Under 41.5
Ravens +2 Over 44.5
Patriots –2 Under 44.5
Bengals –5.5 Over 38
Browns +5.5 Under 38
Giants –9 Over 42
Chiefs +9 Under 42
Lions +10 Over 39
Bears –10 Under 39
Bucs +7 Over 37
Redskins –7 Under 37
Jets +7 Over 45
Saints –7 Under 45
Bills –2 Over 37
Dolphins +2 Under 37
Rams +10 Over 37
49ers –10 Under 37
Cowboys –3 Over 42.5
Broncos +3 Under 42.5
Chargers +6.5 Over 43
Steelers –6.5 Under 43
Packers +3.5 Over 45.5
Vikings –3.5 Under 45.5