How a Packer fan copes with Brett Favre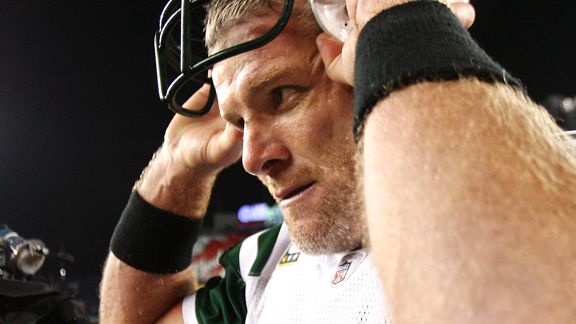 Back in 1969, Elisabeth Kübler-Ross introduced the five stages of grief: denial, anger, bargaining, depression and acceptance. As a long time Green Bay fan (starting with Packers teams that featured Lynn Dickey, Paul Ott Carruth, Eddie Lee Ivery and a host of other players with ridiculous-sounding games), I have firsthand experience with these five stages as I've dealt with Brett Favre and his annual retirement dance.
In the summer of 2008, when the news leaked that Favre was interested in unretiring, I argued that the Packers should bring him back. He was coming off a stellar season and I firmly believed that he gave Green Bay the best chance to win. At this point, I couldn't comprehend that the Packers would choose to move on without Favre and this denial quickly turned to anger as I saw just how entrenched management was in that decision.
But I wasn't aware of a crucial fact: Favre flirted with coming back earlier in the spring and then changed his mind when head coach Mike McCarthy and general manager Ted Thompson were prepared to fly to Mississippi to discuss it. At that point, I totally understood why the Packers said 'enough is enough' and made the decision to cut the cord once and for all. And I understand why Favre was upset that the organization didn't welcome him back with open arms. After all, he is one of the most iconic players ever to play in the NFL and has to have an ego to match. I figured that if he couldn't come back and play for the Packers, then he'd make the wise decision and hang 'em up, once and for all. This is the third stage of grief — bargaining.
Unfortunately, Favre's anger towards the Packers quickly turned to spite as he tried to maneuver his way into either Chicago or Minnesota, the Packers' two biggest rivals. It was obvious what was going on at the time — that Favre wanted to stick it to the Packers, specifically Ted Thompson, who made the final call (and was the one who drafted his successor) — and Favre confirmed this in a interview conducted a few months later. At this point, depression sunk in. I couldn't believe that Brett Favre — my all-time favorite player and the guy that I would schedule my Sundays around — would risk the goodwill of the Packer faithful just to get revenge on those whom he believed wronged him. This spiteful behavior was just sad.
Finally, the Packers did him a favor and traded him to the Jets. It was still a shock to see him in the green and white instead of green and gold, but over the course of the 2008 season, I grew accustomed to seeing him in a Jets uniform and started to appreciate what he was doing in New York. Acceptance.
Clearly, the guy could (and can) still play. He had the Jets at 8-3, coming off a win at then-undefeated Tennessee, and his name was starting to come up in the MVP conversation. Even so, the more I saw of his replacement — Aaron Rodgers — the more I thought that the Packers made the right long-term decision for the franchise. Rodgers has all of the tools to be a franchise quarterback, but just needs to learn how to win, not unlike a certain #4 did in his first couple of seasons as a starter. This can only come with playing time.
A biceps injury and a Jets' 1-4 skid later, Favre was retiring again, and no one in New York seemed all that upset to see him go. After all, they now have their own young franchise quarterback to root for. Favre accomplished his goal. He came back, proved he could still play and, more importantly, proved that he wasn't as durable as he once was. Glad that's over.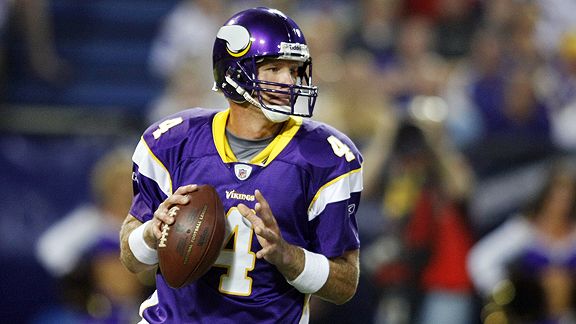 Raise your hand if you're a Packer fan and this photo makes you physically ill.
Fast forward a few months and Favre, out of spite, has traded in his green and white for purple and gold, and I have to begin navigating the five stages of grief all over again.
I have a friend who is a big Vikings fan, and over the past few weeks, he always seems to want to talk about Favre. I say "who?" and pretend I don't know who he's referring to. I guess I was in denial.
Then, last week, it looked like the upstart 49ers might pull off an upset in the Metrodome and hang a loss on the Vikings (putting my beloved Packers in a first place tie in the NFC North). But, like Robert Brooks, Antonio Freeman and Bill Schroeder before him, Favre turns some no-name (Greg Lewis) into the biggest highlight on SportsCenter. It was a better catch than it was a throw, but Favre got most of the accolades, and I got angry. It's one thing if he's off playing in the AFC East, but it's another when he's standing between my favorite team and a division title.
Now, faced with a Monday night tilt between my Packers and my all-time favorite player, I am negotiating with the football gods in the hopes of securing two wins against the Vikings and an NFC North championship. Packer fans: if we can just get that, we'd be all right. Right?
Bargaining.
What's next? Depression?
Not good.