T.J. Houshmandzadeh is a bitter man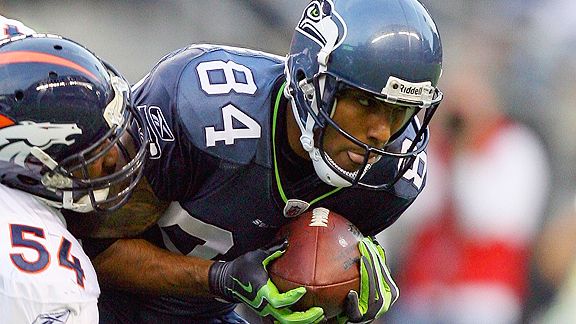 Apparently Seahawks wideout T.J. Houshmandzadeh is still bitter that the Bears didn't sign him this offseason and is hell bent on making them pay this weekend when Chicago visits Quest Field.
From the Seattle Post Intelligencer:
During a conference call with Chicago reporters Wednesday, Houshmandzadeh promised he could beat Bears cornerbacks Charles Tillman and Zack Bowman "95 percent" of the time in this Sunday's game at Qwest Field.

"I feel like I'm going to get open every play, every time," Houshmandzadeh said. "But that's not going to be the case. Those guys get paid well. I feel I'm going to win regardless, but I have to be realistic. I feel I'm going to win 95 percent of the time and they can get the other 5."

The Bears' defense is ranked fifth in the NFL with 267 yards allowed per game, and eighth against the pass at 176.5 yards per game. They have a lone turnover, an interception by Tillman.
Houshmandzadeh also had a promise for Bears general manager Jerry Angelo, whom he said ignored him during free agency in March when Chicago was in the market for a wide receiver.

"Jerry Angelo probably didn't think I could play," he said. "So I'm going to show him Sunday."
If Seneca Wallace starts, I'm willing to bet that Houshmandzadeh is complaining to Jim Mora and Greg Knapp by the midway point in the second quarter because he's not getting the ball enough.
For as productive as Housh is, he'll become unfocused easily if he's not a big part of the offense early and often. He was always in the ear of Marvin Lewis when he was in Cincinnati, so hopefully Mora and Knapp have devised a plan to get him the ball as much as possible or else they're going to have a whiny receiver on their hands.